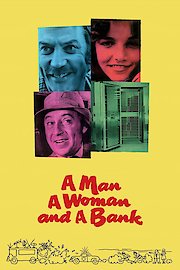 Watch A Man, a Woman, and a Bank
"The two least likely bank robbers in the known universe plan and execute... kind of... the ultimate heist."
PG
1979
1 hr 40 min
Two thieves are ready to make a move that will change their lives forever. They plan a bank in Vancouver. When a beautiful photographer happens to snap a photo of one of the thieves carry the bank's blueprints, he begins a relationship with her to get the film. Now they have to deal with these photos and robbing the bank.