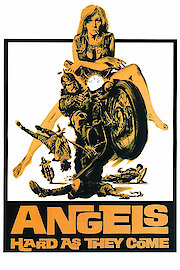 Watch Angels Hard as They Come
"An eye for an eye... a piece for a piece."
R
1971
1 hr 27 min
In this action thriller, two biker gangs, The Angels and The Dragons, are attempting to finish a botched drug deal out in the woods. The Dragons have invited The Angels to a party where there are also a lot of cool hippie women. Everything is fine until one of the hippie girls is murdered. The deranged leader of the Dragons, a dwarf, and his well-built minions are convinced The Angels did it, and the psychotic leader is determined to make them pay.