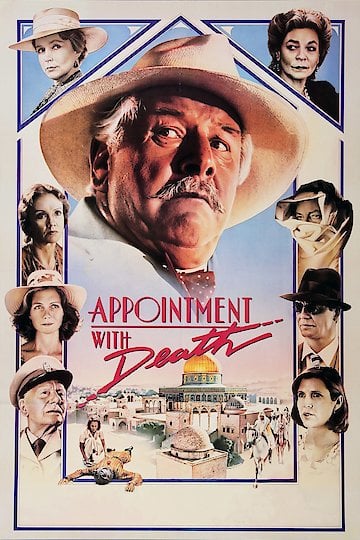 Watch Appointment with Death
"An invitation to murder !"
PG
1988
1 hr 42 min
Appointment with Death is a 1988 mystery-thriller film that is based on the novel of the same name by Agatha Christie. The film is directed by Michael Winner and stars an ensemble cast including Peter Ustinov, Lauren Bacall, Carrie Fisher, and Piper Laurie. The story is set in the 1930s and follows the adventures of Belgian detective Hercule Poirot, who is on a holiday in Jerusalem when he becomes embroiled in a murder investigation. A wealthy American socialite, Mrs. Boynton, has been found dead in her hotel room, and Poirot's investigative instincts are immediately piqued. As he delves deeper into the case, he discovers that everyone in the victim's circle of acquaintances had a motive to kill her.
The cast of characters in the film are an eclectic mix of personalities, ranging from the glamorous and sophisticated to the eccentric and unhinged. There is Mrs. Boynton's domineering and manipulative personality, which has left her family and acquaintances resentful and bitter. There is her stepson Raymond (played by Nicholas Clay), who is haunted by dark secrets from his past. And there is Miss Pierce (played by Piper Laurie), a flamboyant and unstable woman who is prone to outbursts of emotion.
One of the highlights of the film is the brilliant performance by Peter Ustinov as Hercule Poirot. Ustinov embodies the character of Poirot with great finesse and attention to detail, capturing his mannerisms, accent, and quirky personality traits to perfection. He infuses the character with a sense of humor and a sharp wit, keeping the audience engaged and entertained throughout the film.
Lauren Bacall also delivers an impressive performance as Mrs. Boynton. She brings a sense of menace and malice to the role that is truly spine-chilling. Carrie Fisher, in a supporting role as a young woman named Nadine, brings a certain charm to the film with her wit and intelligence.
The film's setting in 1930s Jerusalem is also a major attraction for viewers. The director, Michael Winner, captures the beauty and exoticism of the city, adding a layer of intrigue and mystique to the story. The music score by Pino Donaggio is also noteworthy, creating a sense of tension and anticipation throughout the film.
Overall, Appointment with Death is a well-crafted and engaging mystery-thriller that will keep viewers on the edge of their seats. The cast of characters, the exotic setting, the brilliant performances, and the clever plot twists all contribute to making this film a must-watch for fans of the genre.
Appointment with Death is a 1988 thriller with a runtime of 1 hour and 42 minutes. It has received moderate reviews from critics and viewers, who have given it an IMDb score of 6.1.