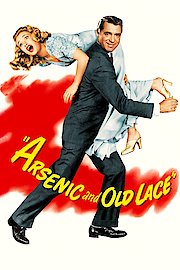 Watch Arsenic and Old Lace
"She Passed Out On Cary! No Wonder . . . She's just discovered his favorite aunts have poisoned their 13th gentleman friend!"
NR
1944
1 hr 58 min
Arsenic and Old Lace, released in 1944, is a dark comedy film directed by Frank Capra and starring Cary Grant, Priscilla Lane, and Raymond Massey. The story is based on the 1939 Broadway play of the same name by Joseph Kesselring and adapted for the screen by Julius J. Epstein and Philip G. Epstein. The movie takes place in the autumn of 1941 in Brooklyn, New York, and follows a drama critic named Mortimer Brewster (Cary Grant), who is about to marry his sweetheart, Elaine Harper (Priscilla Lane). Before they can tie the knot, Mortimer visits his aunts, Abby Brewster (Josephine Hull) and Martha Brewster (Jean Adair), to say goodbye to them. The aunts appear to be two sweet old ladies who run a charity for the poor and are beloved by their community.
However, things take a bizarre turn when Mortimer discovers that his aunts have been poisoning lonely old men with a toxic concoction laced with arsenic, strychnine, and cyanide. They see it as an act of charity, relieving their victims of their suffering and helping them escape to a better place. Mortimer is disgusted by their actions and tries to convince them to turn themselves in, but they refuse, claiming that it's too late to stop now.
To make matters worse, Mortimer's estranged brother, Jonathan Brewster (Raymond Massey), shows up at the house, accompanied by his henchman, Dr. Einstein (Peter Lorre). Jonathan is a fugitive wanted by the police for committing numerous murders across the country. He plans to hide out at his old childhood home until he can escape to South America, but Mortimer is horrified by his presence and tries to get rid of him.
As the night progresses, chaos ensues as Mortimer struggles to keep his aunts' secret and protect his fiancée from discovering the truth about his family's dark past. Meanwhile, Jonathan and Dr. Einstein become increasingly desperate, leading to a series of hilarious mishaps and misunderstandings.
Arsenic and Old Lace is a fast-paced and witty film that blends humor, suspense, and horror in a unique way. The performances by the cast are outstanding, particularly Cary Grant, who delivers a brilliant comedic performance as Mortimer Brewster. His facial expressions and reactions perfectly capture the absurdity of the situation and create a sense of tension that keeps the audience engaged throughout the movie.
The supporting cast is also excellent, with Josephine Hull and Jean Adair stealing the show as the doting yet murderous aunts. Their innocent smiles and gentle mannerisms make their actions all the more chilling, and the contrast between their sweet appearance and their evil deeds creates a deliciously dark atmosphere.
Raymond Massey is also fantastic as Jonathan Brewster, the menacing and delusional older brother who is both terrifying and comical. Peter Lorre adds to the humor with his portrayal of Dr. Einstein, who is constantly drunk and making mistakes that put Jonathan's plans in jeopardy.
Overall, Arsenic and Old Lace is a vintage comedy classic that stands the test of time. Its witty dialogue, unforgettable characters, and clever plot twists make it a must-see for fans of dark humor and classic cinema. Whether you're watching it for the first time or the tenth time, this movie is sure to entertain and delight audiences of all ages.
Arsenic and Old Lace is a 1944 comedy with a runtime of 1 hour and 58 minutes. It has received mostly positive reviews from critics and viewers, who have given it an IMDb score of 7.9.