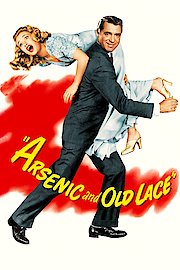 Watch Arsenic and Old Lace
"She Passed Out On Cary! No Wonder . . . She's just discovered his favorite aunts have poisoned their 13th gentleman friend!"
NR
1944
1 hr 58 min
Based on the hilarious play of the same name it's a classic black comedy! Mortimer Brewster (Cary Grant) is a cynical author of books on the outdated nature of marriage but finds himself a newlywed. Arriving at home he breaks the news to his doting aunts but finds a dead body in their window seat. Initially suspecting his insane but harmless cousin he finds to his horror that it is his aunts' charitable hobby of doing away with lonely bachelors! With the return of his other criminally insane cousin (Raymond Massey) and his assistant (Peter Lorre) a deadly competition begins.