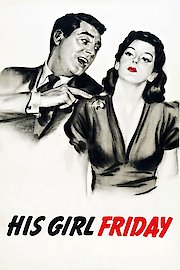 Watch His Girl Friday
"She learned about men from him!"
Passed
1940
1 hr 32 min
Set in the fast-paced world of newspaper reporting, His Girl Friday is a gloriously chaotic romantic-comedy that bursts with wit, zany energy and sparkling performances from its leading stars; Cary Grant, Rosalind Russell, and Ralph Bellamy. The film follows the story of ace reporter Hildy Johnson (Russell), who after working for years at a newspaper under the tutelage of her editor and ex-husband Walter Burns (Grant), plans to quit to marry insurance salesman Bruce Baldwin (Bellamy) and settle down into a comfortable domestic life. However, Walter refuses to let Hildy leave the paper and concocts a cunning plan to keep her reporting on the news. As Walter attempts to win Hildy back, Hildy finds herself torn between her feelings for her ex-husband and her desire for a quieter life, which further complicates the already chaotic world of the newspaper. What follows is a hilarious and enthralling battle of wits between Hildy and Walter, as they compete to break the story of the year while simultaneously trying to win each other back. It is a classic tale of love, loyalty, and ambition played out against a backdrop of fast-talking reporters, shady politicians, and gun-toting gangsters. The performances in the film are nothing short of superb. Cary Grant brings his trademark charm and impeccable comic timing to the role of Walter Burns, a manipulative and opportunistic editor who stops at nothing to get what he wants. He is perfectly matched by Rosalind Russell's feisty and quick-witted performance as Hildy Johnson, a woman trying to find her place in a man's world while navigating the complexities of love and ambition. Ralph Bellamy is also excellent as the bumbling but endearing insurance salesman Bruce Baldwin, who finds himself unwittingly caught up in the chaos of the newspaper's newsroom. Other standout performances include Gene Lockhart as the corrupt mayor, Regis Toomey as the hardboiled reporter Earl Williams, and Roscoe Karns as the hapless reporter McCue. The direction of the film by Howard Hawks is masterful, with his trademark rapid-fire dialogue and crisp editing creating a sense of urgency and excitement throughout the film. The film's use of overlapping dialogue adds to the frenetic energy of the newsroom, as reporters jostle for space and try to outdo each other in their coverage of the story. At its core, His Girl Friday is a film about the power of journalism and the importance of a free press. It is a celebration of the hardworking journalists who tirelessly strive to uncover the truth in the face of corruption and obstruction. In a world where journalism is under threat and the truth is constantly under attack, this film serves as a reminder of the vital role that journalists play in our society. Overall, His Girl Friday is a true classic of the screwball comedy genre, with its whip-smart dialogue, dynamic performances, and dynamic direction making it an enduring favorite among film lovers. It's a film that continues to inspire and entertain audiences over 80 years after its release, a testament to its timeless humor and enduring message.