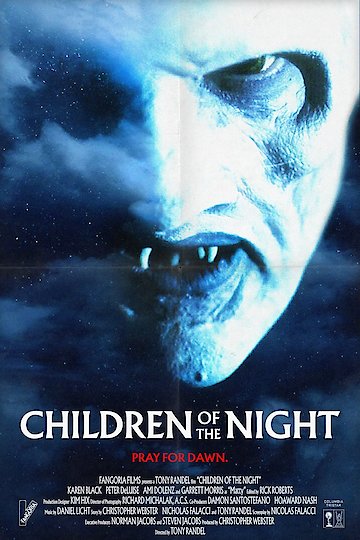 Watch Children of the Night
"Be home before nightfall... and pray for dawn!"
R
1992
1 hr 32 min
Children of the Night is a horror movie released in 1991 that follows the story of a small town that is plagued by a series of mysterious deaths. The movie stars Karen Black, Peter DeLuise, and Ami Dolenz. The story revolves around a group of teenagers who find themselves battling an evil force that has taken over their small town. As the movie begins, the town's residents are dying at an alarming rate, and the local authorities do not seem to have any answers. The townsfolk are becoming increasingly suspicious of each other, and tensions are running high.
The teenagers who are at the center of the movie are connected to the mysterious deaths in various ways. They are all struggling with their own personal demons, and each one has a dark secret that they are trying to keep hidden. However, as the deaths continue to occur, they realize that they must band together and confront the evil that is lurking in their midst.
As the movie progresses, the teenagers become more and more determined to uncover the truth about the mysterious deaths. They begin to uncover clues that suggest that the evil force that is causing the deaths is a group of vampires who have taken up residence in their town. The teenagers must then work together to figure out how to defeat the vampires and save their town from destruction.
Throughout the movie, the tension continues to build as the teenagers race against time to stop the vampires from claiming any more victims. The movie features a number of thrilling and suspenseful scenes that will keep viewers on the edge of their seats.
One of the standout performances in the movie is from Karen Black, who plays the role of a local woman who is convinced that the deaths are the work of supernatural forces. Her character provides a much-needed dose of skepticism and realism to the movie.
Peter DeLuise also delivers a strong performance as one of the teenagers who is trying to uncover the truth about the deaths. He brings a sense of urgency and intensity to his role, which helps to drive the plot forward.
Overall, Children of the Night is a thrilling and suspenseful horror movie that will keep viewers engaged from start to finish. While it may not be the most original entry in the genre, it is certainly worth watching for fans of vampire movies and horror in general.