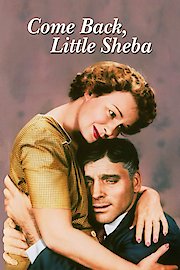 Watch Come Back, Little Sheba
"That girl in their house spelled trouble!"
NR
1952
1 hr 35 min
Come Back, Little Sheba is a poignant drama movie released in 1952, directed by Daniel Mann and produced by Hal B. Wallis. The screenplay was written by Ketti Frings, based on the play of the same name by William Inge. The movie centers around the lives of Lola and Doc Delaney, played by Shirley Booth and Burt Lancaster, respectively, a couple in their middle age who live in a small Kansas town. Both of them are struggling with their own personal demons, and their relationship is on the brink of collapse.
Lola is a housewife who spends most of her day playing the role of a perfect wife and homemaker, keeping the house tidy and well-maintained, cooking meals for Doc, and attending to his needs. However, she is deeply unhappy, as she has been unable to have children, and her life now revolves around Doc. She is also a recovering alcoholic, and her addiction has left her with feelings of guilt and shame.
Doc, on the other hand, is a recovering alcoholic himself and a retired chiropractor. He is also struggling with his own insecurities, having lost his medical license after accidentally injuring a patient. He spends most of his time reminiscing about his youth, where he was a successful athlete, and now feels trapped and unfulfilled in his life with Lola.
The couple's unhappy existence is disrupted when Marie Buckholder, played by Terry Moore, a young college student, comes to rent a room in their house. Marie is young, energetic, and full of life, and her arrival shakes up the mundanity of Lola and Doc's life.
As the story unfolds, tensions rise between Doc and Marie, and Lola becomes increasingly jealous of the younger woman's presence in their home. Secrets from the past are revealed, and the couple starts to confront their own personal demons, leading to a poignant climax.
Come Back, Little Sheba is a film that deals with complex themes like addiction, loneliness, and regret, and is carried by the performances of its lead actors. Shirley Booth won the Academy Award for Best Actress for her portrayal of Lola, a role that she originated on the Broadway stage.
Burt Lancaster, in one of his early roles, is excellent as Doc Delaney, conveying a sense of sadness and desperation with nuance and subtlety. The chemistry between the two actors is palpable, and they share some poignant moments throughout the movie.
Terry Moore, as Marie Buckholder, is a breath of fresh air in the otherwise bleak story. Her energy and optimism serve as a counterpoint to the melancholy of the Delaneys, and her presence highlights the missed opportunities and regrets of their lives.
The film also features a strong supporting cast, including Richard Jaeckel as Turk Fisher, a young man who has a crush on Marie, and Philip Ober as Ed Anderson, Doc's former medical partner.
The movie's cinematography, by James Wong Howe, is noteworthy, with several striking shots and compositions that add to the film's melancholic mood. The movie's score, by Franz Waxman, also deserves special mention, adding to the emotional weight of the story without being intrusive.
Overall, Come Back, Little Sheba is a compelling drama that deals with complex emotions and relationships. It is a powerful reminder of the human condition and the frailty of our desires and ambitions. The movie deserves to be remembered as one of the definitive portrayals of mid-life crisis in cinema.
Come Back, Little Sheba is a 1952 romance movie with a runtime of 1 hour and 35 minutes. It has received mostly positive reviews from critics and viewers, who have given it an IMDb score of 7.5.