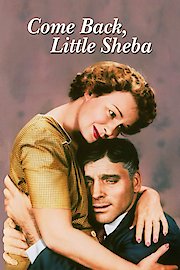 Watch Come Back, Little Sheba
"That girl in their house spelled trouble!"
NR
1952
1 hr 35 min
Based on William Inge's classic play, Come Back, Little Sheba is the stirring tale of a life-weary couple who rescue hope from the ruins of the past. Shirley Booth stars in an Academy Award. - winning performance as Lola, slovenly housewife to Doc Delaney (Burt Lancaster), a recovering alcoholic. The Delaneys' life is dull and unchanging, but takes a dramatic turn when the couple take in a charming boarder, Marie (Terry Moore). Marie becomes the daughter the Delaneys never had. But when Marie takes up with a boorish boyfriend, Doc descends into a jealous tailspin and must once again face the temptations of the bottle. An unforgettable film shimmering with life-truths and dramatic intensity.