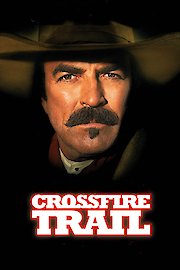 Watch Crossfire Trail
"A hero is measured by the enemies he makes."
NR
2001
1 hr 35 min
In the western movie Crossfire Trail, Tom Selleck portrays Rafe Covington, a weary cowboy who, after losing his best friend to a land dispute, decides to leave Wyoming in search of a new life. He embarks on a journey that takes him to the distant town of Junction, where he learns of a recent and brutal murder of a wealthy landowner. Covington takes a job carrying out odd jobs for the newly widowed landowner's wife, Anne Rodney, played by Virginia Madsen. As he starts to work, he quickly realizes that the town's corrupt sheriff, Walter Thibido, played by Wilford Brimley, is working in cahoots with wealthy rancher Bruce Barkow, who is trying to take over Anne's land. Covington, who is an ex-lawman, takes it upon himself to protect Anne and her land from Barkow and his cronies. With the help of some honorable cowboys he meets in town, including the town's blacksmith, they prepare themselves for the oncoming war against Barkow and his corrupt allies. The story of Crossfire Trail is an engaging and entertaining tale of the Old West, full of adventure, romance, and gun-slinging action. Selleck does an excellent job of portraying the rugged cowboy, who is skilled in combat, but deeply empathetic and compassionate. Madsen is perfectly cast as his love interest, Anne, who despite her tragic circumstances, exudes a quiet strength and resilience. The movie's cinematography is breathtaking, capturing the rugged beauty of the Old West's landscapes with sweeping panoramas and intimate close-ups. The action scenes, including a climactic shoot-out, are exhilarating and well-staged, giving viewers a real taste of the dangers and thrills of life in the Wild West. The performances of the supporting actors, including Wilford Brimley as the corrupt sheriff and Mark Harmon as a charming cowboy who befriends Covington, are all top-tier. Their characters are well-rounded and interesting, adding depth to the film's portrayal of life in the Old West. Overall, Crossfire Trail is a fantastic movie for fans of westerns, action, drama, and romance. Its engaging storyline, excellent performances, and stunning cinematography make it a must-see for anyone looking for a satisfying movie experience.