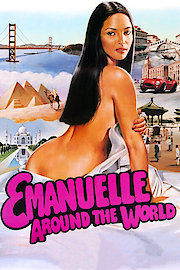 Watch Emanuelle Around the World
"Emanuelle's back to take you places you've never been before!"
R
1977
1 hr 42 min
Emanuelle Around the World is a 1977 erotic drama film that traces the journey of Emanuelle (Laura Gemser), a globe-trotting journalist, as she travels to various countries to uncover scandalous stories. The film is directed by Joe D'Amato and stars Ivan Rassimov and Karin Schubert. The movie is known for its titillating and exploitative content and is considered a cult classic.
The movie opens with Emanuelle traveling to Bangkok to cover the latest surge in the sex trade. While there, she meets a young girl named Phuong who was sold into prostitution, and decides to help her escape her captors. The two flee to Hong Kong, where Emanuelle continues her investigation into the Asian sex industry, uncovering corruption and exploitation at every turn.
From there, Emanuelle travels to Venice to attend an international conference on women's rights. There she meets a senator from the United States who offers to help her with her investigation in exchange for sexual favors. Emanuelle agrees and they embark on a steamy affair that leads them to a secret society of wealthy and powerful men who hold orgies and engage in the most depraved and shocking acts of debauchery.
Emanuelle then travels to New York to cover a story on the American porn industry. She goes undercover as a porn star, working with various directors and actors to get the scoop on the seedy underbelly of the industry. Along the way, she meets a young couple who are struggling to make it in the business and decides to help them achieve their dreams.
The movie finally takes Emanuelle to Africa, where she investigates the brutal practices of female genital mutilation. She meets with a group of female rebels who are fighting against this barbaric and oppressive tradition, and joins them in their fight for justice and freedom.
Emanuelle Around the World is a product of its time, with its exploitation of nudity and sexual content. However, it also touches on important themes such as women's rights, social justice, and the dark side of globalism. Laura Gemser's performance is captivating, and she brings a certain depth and complexity to Emanuelle, who could have easily been reduced to a mere sex object.
The film also features stunning cinematography, with its vivid depiction of various locations around the world. From the neon-lit streets of Bangkok to the bustling cityscape of New York, the movie captures the essence of each place, immersing the viewer in Emanuelle's world.
In conclusion, Emanuelle Around the World is a must-watch for fans of erotic cinema and exploitation films. While it may not be for everyone, it is a testament to the power of cinema to tackle difficult themes and ignite conversations about important issues. It is a film that pushes boundaries and challenges conventions, and for that reason, it deserves a place in cinematic history.