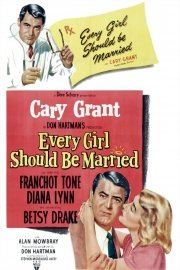 Watch Every Girl Should Be Married
""Every Girl Should be Married" says Cary Grant, Noted Bachelor Baby Doctor, so she took his advice and married HIM!"
Passed
1948
1 hr 25 min
Every Girl Should Be Married is a romantic comedy movie from the year 1948 that stars Cary Grant, Betsy Drake, and Franchot Tone. The movie revolves around Anabel Sims (Betsy Drake), a young woman who has been determined to get married since she was a little girl. She even went as far as creating a scrapbook filled with pictures from weddings of couples she admires. She has her sights set on Dr. Madison Brown (Cary Grant), a veterinarian who she thinks would make the perfect husband. Dr. Brown, however, is not interested in marriage, especially not to Anabel. He tries to avoid her as much as possible, but Anabel is persistent and will not take no for an answer. She goes to great lengths to get his attention, even attempting to make him jealous by pretending to be engaged to her ex-boyfriend. Dr. Brown sees right through her ruse and is not impressed. Meanwhile, Anabel's friend and former flame, Eddie (Franchot Tone), comes back into her life. He is now a successful businessman and is interested in rekindling their romance. Anabel, however, is too focused on Dr. Brown to notice Eddie's advances. As the movie progresses, Anabel continues to try and win over Dr. Brown. She even enlists the help of her male coworkers to make him jealous. Dr. Brown, on the other hand, is preoccupied with his work and is not interested in getting romantically involved with anyone. Throughout the movie, there are several comedic and lighthearted moments. Anabel's persistence and determination to get married are portrayed in a humorous way, and there are several witty exchanges between Anabel and Dr. Brown. Every Girl Should Be Married also touches on the societal pressures women faced at the time to get married and settle down. Anabel is constantly reminded by her family and friends that she should be married and that her time is running out. However, the movie also shows that women have agency and should not settle for just anyone to fulfill societal expectations. The acting in the movie, especially by Cary Grant and Betsy Drake, is top-notch, and the chemistry between the two is palpable. The supporting cast also does a great job in adding to the comedic moments in the movie. Overall, Every Girl Should Be Married is an enjoyable romantic comedy that provides a glimpse into the societal expectations women faced during the time it was made. The movie has several funny moments and great performances by the cast, making it a must-watch for fans of the genre.