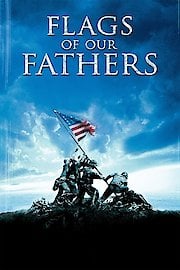 Watch Flags of Our Fathers
"They fight for their country but they die for their friends."
R
2006
2 hr 12 min
79
Released in 2006, "Flags of Our Fathers" is an American action movie inspired by the novel of the same name authored by James Bradley and Ron Powers. It revolves around the Battle of Iwo Jima, the seven Marines and one Navy Corpsman who greatly contributed to the flag raising on Iwo Jima, and the repercussions of the war on their lives. It was directed, co-produced, and scored by Clint Eastwood. It runs 2 hours and 12 minutes. The production of the movie costed $55 million and earned a Box Office of $66 million. The plot begins in the middle of events with an intricate set of flashbacks. Three servicemen, namely Hayes, Gagnon, and Bradley, are brought back to the United States to assist the seventh war bond drive. As they traverse the country, a collection of flashbacks and memories regarding the incidents on the Battle of Iwo Jima emerge. The film streamlines on seven U.S. Marines and one Navy Corpsman. In 1944, United States Marine troops are being trained at a base camp in Hawaii. They train through a progressive course, which begins by climbing a steep mountain and then getting in Higgins boats. The Marines then trek through the Pacific ocean. It is later unraveled that the troops are going to the minute island of Iwo Jima. The captain of the platoon tells them straightforward that the mission is tough and will involve resistance from the Japanese. A few days later, the troops hit the shorelines of Iwo Jima and the U.S. naval ships begin to open fire on presumed Japanese oppositions. The next day, at February 19, 1945, the U.S. Marine troops dock the shores of the island and assumes the Navy has bombarded and killed all Japanese defenders within the area. They advance and the Japanese begin to attack. Many Marine troops are immediately hit as the Japanese pepper them down with heavy artillery across the shoreline.