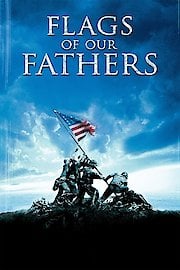 Watch Flags of Our Fathers
"They fight for their country but they die for their friends."
R
2006
2 hr 12 min
79
Flags of Our Fathers is a 2006 war drama film directed by Clint Eastwood, based on the book of the same name by James Bradley and Ron Powers. The film tells the story of the six American soldiers who raised the American flag at the Battle of Iwo Jima during World War II, and how the heroic act changed their lives forever. The movie follows three of the soldiers, John 'Doc' Bradley (Ryan Phillippe), Rene Gagnon (Jesse Bradford), and Ira Hayes (Adam Beach), as they are chosen to participate in a nationwide fundraising tour to sell war bonds. The three men were chosen because they are the only survivors of the six soldiers who raised the flag.
As the trio travels the country, they are hailed as heroes, but also confront the reality that they have been turned into symbols for a war they didn't understand. They struggle with their newfound fame and the memories of the battle that haunt them.
Alongside the fundraising tour, the film also explores the events of the Battle of Iwo Jima. The harrowing scenes depict the soldiers fighting against an entrenched enemy while also confronting the brutalities of war. The movie explores the themes of fear, survival, and sacrifice, as the soldiers reflect on the consequences of their actions.
The film culminates in the iconic flag-raising scene, which has been captured in one of the most famous photographs in history. The scene is recreated with painstaking attention to detail, from the uniforms that the soldiers wear to the island's black volcanic sand.
Throughout the movie, the story is narrated by John's son, James Bradley (played by Tom McCarthy), who is trying to uncover the truth about his father's experience in the war. He interviews his father's former comrades and reads his father's diary to try to piece together what happened on that fateful day.
Flags of Our Fathers is a moving tribute to the men who fought and died during the Battle of Iwo Jima. The film's themes of heroism, loss, and the costs of war are portrayed with sensitivity and authenticity. The performances of the actors, especially Ryan Phillippe, Barry Pepper, and Joseph Cross, are powerful and affecting.
Overall, the movie is a poignant reminder of the sacrifices that were made for our freedom by men who, in the words of one character, were "just ordinary guys who did extraordinary things." It is a must-watch for anyone interested in history, war movies, or simply great filmmaking.
Flags of Our Fathers is a 2006 war movie with a runtime of 2 hours and 12 minutes. It has received mostly positive reviews from critics and viewers, who have given it an IMDb score of 7.1 and a MetaScore of 79.