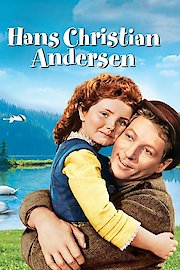 Watch Hans Christian Andersen
"The glorious story of the greatest storyteller of them all!"
NR
1952
1 hr 52 min
Hans Christian Andersen is a fictional musical romance story starring Danny Kaye. This film is in color and runs for approximately two hours. Danny Kaye plays Hans Christian Anderson, a small town cobbler who works in a small shop making shoes and has a young boy apprentice. Throughout the movie, the characters break into song. While working on shoes in the town courtyard, Hans makes friends with the children telling tales. When one young child is upset for not having hair and being picked on by the other kids, Hans sings the tale of the Ugly Duckling and soon the child feels better about being different. Later, while the ballet is in town, the lead ballerina complains that she needs new shoes, so that she can dance. Since Hans is the only cobbler in town he is summoned to create the best shoes for the ballerina. Hans instantly falls in love with her and after witnessing a fight between her and the director decides it is his job to save her from her fate. Little does Hans know that the director is actually the woman's husband and that they always fight. While making the ballerina's shoes, Han's writes the story of The Little Mermaid as a gift to the ballerina. Her husband reads the story and decides to turn it into a play. They invite Hans to the openning of his play and he brings the ballerina more shoes. Still unaware that the ballerina is married, he continues to interrupt backstage before the play and is eventually locked in a closet. Finally, noticing that his ballerina is married he leaves her shoes at the theater and returns broken hearted to his shop.