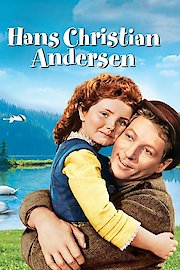 Watch Hans Christian Andersen
"The glorious story of the greatest storyteller of them all!"
NR
1952
1 hr 52 min
Hans Christian Andersen is a 1952 American musical film directed by Charles Vidor and starring Danny Kaye in the titular role. The movie is loosely based on the life of the famous Danish author and fairy tale writer, Hans Christian Andersen. The film follows Andersen's journey from his childhood in Odense, Denmark, to his adulthood as a successful writer in Copenhagen. Throughout the movie, we see him struggle to find his place in the world, as his love for writing and storytelling clashes with the realities of his time. Danny Kaye delivers an enchanting performance as the eccentric and imaginative Andersen, who's constantly bursting with ideas and dreams for new stories, but struggles to find an outlet for his creativity. Kaye's vibrant energy and comic timing add a touch of whimsy to the film, as he bounces around in brightly colored costumes, singing and dancing his way through the movie. Along the way, we meet various characters who inspire many of Andersen's most beloved fairy tales. These include a young ballerina named Doro (played by Zizi Jeanmaire) who becomes the muse for his story "The Little Mermaid," and a beautiful but troubled actress named Jenny Lind (played by Farley Granger), who inspires his story "The Nightingale." The film is a delightful celebration of storytelling and creativity, with several musical numbers that are both catchy and entertaining. The most memorable of these is undoubtedly the song "Inchworm," in which Kaye sings about the joys of counting and measuring things in the world around him. The lyrics perfectly capture Andersen's childlike spirit and imagination, as he marvels at the wonders of the natural world. But the film also has its darker moments, as we see Andersen struggle to find acceptance in a world that often rejects his ideas and his unusual behavior. He falls in love with Doro, but she cannot return his affections, leaving him heartbroken and alone. His friendship with Jenny Lind also ends in sorrow, as he discovers that her life is not as perfect as it appears on the surface. The film ends on a bittersweet note, as Andersen finally finds success and recognition as a writer, but also realizes that his truest joy lies in the act of creation itself, rather than in the fame or wealth it might bring him. He finds comfort in knowing that his stories will live on long after he's gone, inspiring future generations with their timeless themes of love, bravery, and imagination. Overall, Hans Christian Andersen is a charming and entertaining movie that captures the spirit of its subject with wit and heart. Kaye's performance is a masterclass in comedic acting, while the film's lavish production values and musical numbers make it a treat for the eyes and ears. Whether you're a fan of Andersen's classic tales or simply looking for a heartwarming and entertaining movie, this film is sure to delight audiences of all ages.