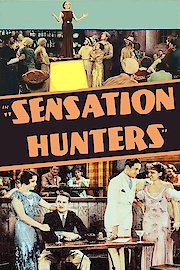 Watch Sensation Hunters
"HITTING THE HIGH SPOTS IN PANAMA'S 'HOT SPOTS'!"
1934
1 hr 13 min
Dale Jordan is first accepted by the aristocratic first-cabin passengers on a south-bound Panama-Pacific liner until they discover she is a member of a troupe of cabaret girls led by Trixie Snell en route for the Bull Ring Cabaret in Panama City. This makes no difference to Tom Baylor, San Blas mining engineer, who presents her with a bracelet upon their arrival in Panama. Tom departs for his mining location in the jungle and Dale is taken in tow by hard-boiled but good-hearted Jerry Royal, an old timer with Trixie's crew. Dale takes up with millionaire Jimmy Crosby who promises to get a divorce from his wife in the states, but is unable to and commits suicide by crashing his plane. Jerry and Dale go from one dive to the other in an effort to get enough money to go home. They land in The Cobra, one of the lowest dives in Panama, and Jerry is knifed in a saloon brawl.