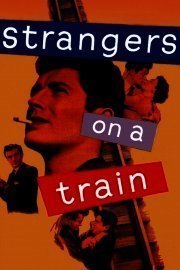 Watch Strangers on a Train
"It starts with a shriek of a train whistle...and ends with shrieking excitement."
PG
1951
1 hr 41 min
88
Strangers on a Train is a 1951 psychological thriller directed by the legendary filmmaker Alfred Hitchcock. The movie follows the story of two strangers who agree to "exchange murders" with each other. The film stars Farley Granger as the protagonist, Guy Haines, and Robert Walker as the antagonist, Bruno Antony. Guy Haines is a successful tennis player who is hoping to divorce his unfaithful wife and marry his girlfriend, Anne (played by Ruth Roman). On a fateful train ride, he meets the charming and talkative Bruno Antony, who sympathizes with his situation and describes a hypothetical scenario that becomes all too real. Bruno suggests that he will murder Guy's wife if Guy will reciprocate by killing Bruno's hated father. At first, Guy thinks Bruno is joking, but as the train pulls into the station, he realizes that Bruno is deadly serious.
As Guy gets off the train, he believes that the conversation with Bruno was just a weird encounter with a stranger he'll never see again. However, Bruno has become fixated on Guy and begins to stalk him, meddling in his personal and professional life. Guy soon realizes that he is being framed for the murder of his wife and seeks the help of Bruno's wealthy father, Senator Morton, to clear his name.
The film's climax takes place on a runaway carousel at an amusement park, where Bruno pursues Guy with a knife. Hitchcock masterfully builds suspense through the use of lighting, editing, and sound design to create a tense and thrilling scene.
Strangers on a Train is a classic example of Hitchcockian suspense. The film explores themes of identity, guilt, and the human psyche. The two lead actors give compelling performances, particularly Robert Walker, who steals the show as the charismatic and mentally unstable Bruno Antony. The supporting cast, including Ruth Roman as Guy's girlfriend and Leo G. Carroll as Senator Morton, also deliver strong performances.
The cinematography of the film is another noteworthy aspect, with Hitchcock utilizing creative camera angles and shots to heighten the tension of key scenes. In particular, the scene on the train between Guy and Bruno is shot in extreme close-ups, emphasizing the claustrophobic nature of their conversation.
Overall, Strangers on a Train is a captivating and suspenseful film that has stood the test of time. Hitchcock's skilled direction, the gripping performances of the cast, and the film's exploration of psychological themes make it a must-watch for fans of the thriller genre.
Strangers on a Train is a 1951 crime movie with a runtime of 1 hour and 41 minutes. It has received mostly positive reviews from critics and viewers, who have given it an IMDb score of 7.9 and a MetaScore of 88.