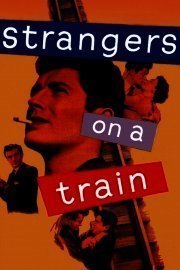 Watch Strangers on a Train
"It starts with a shriek of a train whistle...and ends with shrieking excitement."
PG
1951
1 hr 41 min
88
Strange thing about this trip is that so much occurs in pairs. When tennis star Guy, who hates his unfaithful wife, meets mysterious Bruno, who hates his father, a playful proposal is made: I'll kill yours, you kill mine. But trouble comes when the plan is actually implemented.