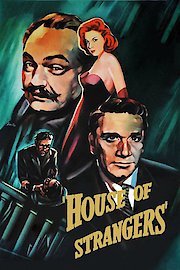 Watch House of Strangers
"A powerhouse of emotion."
NR
1949
1 hr 41 min
"House of Strangers" is an American film noir about an Italian-American family. The father is a banker whose unethical practices eventually result in serious legal trouble. He also has a shaky relationship with his four sons, so only one of them stays loyal to him after he's arrested. The other three brothers take control of the bank and try to have the loyal brother put in jail. They succeed, and he vows revenge.