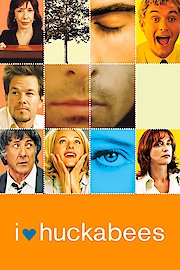 Watch I Heart Huckabees
"An existential comedy"
R
2004
1 hr 46 min
55
I Heart Huckabees centers around four individuals trying to figure out the meaning of their lives. First, there is environmental activist Albert Markovski, who is trying to stop the building of a new Huckabees, a huge chain department store. When he runs into the same stranger three times, he decides to go to a pair of detectives, Bernard and Vivian Jaffe, to find out who the man is. These detectives, however, are more interested in teaching him about existentialism and the interconnectivity of all beings, and they try to convince him that meeting the man is merely a coincidence. The detectives introduce him to Tommy Corn, a firefighter who is obsessed with the over-consumption of petroleum. Tommy and Albert become good friends, but they begin to feel that the detectives are not being very helpful. To get a different point of view, they seek out another detective, Caterine Vauban. Vauban used to be a student of the Jaffes until she came to her own conclusions that human drama is meaningless. She teaches Albert and Tommy to view the world in a more nihilistic light. Her solution is to disconnect from emotions and problems in order to live in a state of pure being. Despite this, Vauban and Albert fall in love. They hurt Tommy's feelings by running away together. Tommy loses all hope in finding the meaning of life and becomes lost once again. A powerful executive at Huckabees, and Albert's nemesis, Brad Stand, finds out about the Jaffes. He goes to them hoping to obtain information that he might use against Albert. However, he and his girlfriend, Dawn Campbell, the company's spokeswoman, are influenced by the Jaffes's worldview. They reject the corporate world in search of something more meaningful. All of their lives eventually intertwine, and each individual learns their purpose in life and what it really means to them.