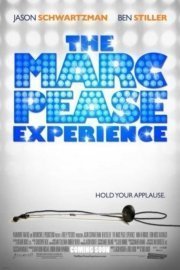 Watch The Marc Pease Experience
"Hold your applause."
PG-13
2009
1 hr 24 min
30
The Marc Pease Experience is a comedy-drama film from 2009, directed by Todd Louiso, and starring Jason Schwartzman, Ben Stiller, and Anna Kendrick. The story revolves around Marc Pease, a former high school musical star who is still living in the past, unable to move on from his glory days. Marc's life is turned upside down when his former music teacher, Jon Gribble (played by Stiller), asks him to perform in his current high school musical. The movie opens with Marc attending his ten-year high school reunion, which he sees as an opportunity to relive his glory days. He reunites with his former music teacher, Jon Gribble, who is now teaching at the same high school as he did ten years ago. Jon was the one who inspired Marc to become a musical star, and he still holds a great deal of respect and admiration for him. Jon is now preparing for his upcoming musical, in which Marc played the lead ten years ago. He wants Marc to rejoin the cast and play the same role he played a decade ago. Marc is hesitant at first, but Jon's persistence convinces him to go back to the musical, reliving his past glory days. However, Marc's life has taken a different turn than he expected. He is now working at a retail store and living with his parents, who think his musical career is a mere hobby. Moreover, his former girlfriend, Meg (played by Kendrick), is now dating another man, which makes Marc realize that he has wasted all these years trying to relive the past, instead of moving on and enjoying his present moment. As rehearsals for the musical begin, Jon's ambition and obsession with the show become apparent. He starts imposing his own ideas and visions onto the show, ignoring the aspirations of the students and the other cast members. Marc, on the other hand, begins to realize that his former music teacher is stuck in the past, much like he himself was. The film explores various themes, including the follies of youth and the difficulty of letting go of the past. It also deals with the power dynamics between a teacher and his students, and the struggle between ambition and creativity. Jason Schwartzman delivers an excellent performance as Marc, perfectly portraying a man who is stuck in the past and unable to move forward in life. His chemistry with Ben Stiller is undeniable, and the two actors manage to evoke both humor and pathos in their scenes together. Anna Kendrick, who plays Meg, delivers a solid performance as Marc's former girlfriend, who has moved on with her life. She brings a certain level of maturity and depth to her character, which serves as a stark contrast to Marc's inability to move on. The Marc Pease Experience is a charming and heartfelt movie that explores the complexities of human relationships and the struggle to let go of the past. Its strong performances and compelling storytelling make it a must-watch for anyone who enjoys a good comedy-drama.