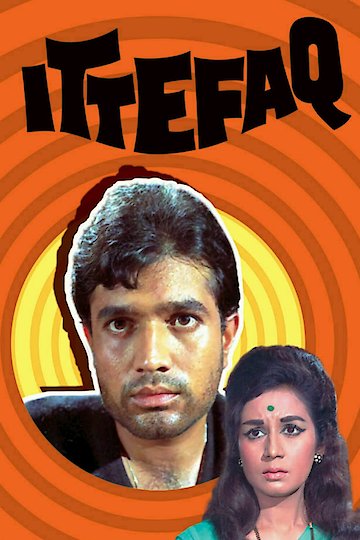 Watch Ittefaq
Ittefaq is a 1969 Indian suspense thriller film directed by Yash Chopra, starring Rajesh Khanna, Nanda Karnataki, and Sujit Kumar. It is based on the Gujarati play "Dhummas" written by the renowned playwright Swadesh Deepak. The film is considered to be one of the best of its genre and is still remembered for its clever plot, taut screenplay, and brilliant performances.
The story opens with a man named Dilip, played by Rajesh Khanna, who is on the run from the police. He is accused of murdering his wife, and despite his repeated claims of innocence, the police are convinced of his guilt. On the night of his escape, he seeks refuge in the house of a woman named Rekha, played by Nanda Karnataki. Rekha is alone in her house, as her husband is away on a business trip. Dilip asks her for shelter, but she initially refuses, suspecting him of foul play. However, Dilip's desperate pleas and tears soon convince her to let him stay for the night.
In the middle of the night, Rekha is awakened by police sirens outside. She finds that Dilip has fled, leaving behind a note thanking her for her kindness. The police soon arrive and question Rekha about Dilip's whereabouts. She denies having seen him, but the police find evidence of his visit, including a cigarette butt and a glass of water. The police inspector, played by Sujit Kumar, becomes suspicious and starts to investigate Rekha. Soon, a dead body is found in Rekha's house, and both Dilip and Rekha are suspect.
The rest of the film is a gripping puzzle, where the audience is left guessing who the real murderer is. The flashback scenes and different versions of events presented by the characters keep the audience engaged and guessing. Each theory and explanation seems plausible, making it difficult to determine the truth until the very end.
The performances by the lead actors are outstanding. Rajesh Khanna, at the height of his stardom, delivers a restrained and nuanced performance as Dilip, a man who is desperate to prove his innocence. Nanda Karnataki also impresses as Rekha, a woman caught in a web of suspicion and intrigue. Sujit Kumar delivers a strong supporting performance as the investigating police officer.
The film is also distinguished by its technical aspects. The black and white cinematography by N.N. Shukla creates a moody and atmospheric tone, adding to the film's suspense. The film's music, composed by Salil Choudhury, is a standout, especially the haunting theme song "Ittefaq Se Raat Baaki" sung by Asha Bhosle.
Overall, Ittefaq is a classic of its genre and one of the best films of its time. Its clever plot twists and intriguing characters make it a must-watch for fans of suspense thrillers. The film's critical and commercial success led to its remakes in 2001 (Ittefaq) and 2017 (Ittefaq), showing the lasting power of the story and its impact on Indian cinema.