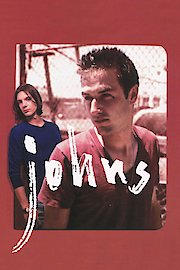 Watch Johns
"This ain't no 90210"
R
1996
1 hr 36 min
Johns is an independent drama film that was released in 1996. The movie tells the story of two young men who work as male prostitutes on the streets of Los Angeles. The film stars David Arquette as John, a veteran hustler who has been working the streets for years. His younger partner in crime is known only as Donner, played by Lukas Haas. The film is directed by Scott Silver, who also wrote the screenplay.
The movie begins with John and Donner walking the streets, trying to pick up johns. As the night wears on, they encounter a variety of clients, some kind, some abusive. The movie doesn't shy away from the harsh realities of prostitution, showing its dark underbelly and the dangers that come with the lifestyle.
As the movie progresses, we learn more about the two main characters. John is a jaded veteran of the street, who seems to have given up on life. Donner, on the other hand, is relatively new to the world of prostitution and still has hope for a better future. Despite their differences, the two men form a bond as they work together to survive.
Throughout the film, we also meet a variety of other characters who are involved in the world of prostitution. There is also a police officer named Benny (Tony Epper) who is determined to shut down the prostitution ring. He spends much of the movie trying to catch John and Donner in the act, but the two men always seem to be one step ahead.
As the movie nears its climax, John and Donner's friendship is tested in a variety of ways. They are forced to confront the harsh realities of their situation, and must decide whether or not they can trust each other to survive.
One of the standout performances in the movie is given by David Arquette. He brings a level of depth and complexity to the character of John that is grounded in the reality of street life. He portrays John as a man who is tired and jaded, but still hopeful deep down. Lukas Haas also delivers a solid performance as Donner, bringing a vulnerability and innocence to the role.
The direction and cinematography of the film is also noteworthy. Scott Silver does an excellent job of capturing the gritty and harsh realities of street life, while also infusing the movie with a sense of hope and humanity.
Overall, Johns is a dark and gritty drama that offers a realistic portrayal of the world of male prostitution. The movie doesn't shy away from the harsh realities of life on the streets, but also offers a sense of hope and humanity that make it a compelling watch.