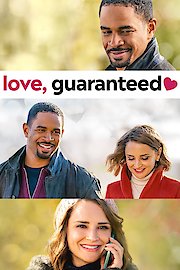 Watch Love, Guaranteed
TV-PG
2020
1 hr 30 min
39
Love, Guaranteed is a romantic comedy film that was released in 2020. The movie is directed by Mark Steven Johnson, and the cast is led by Rachael Leigh Cook, Damon Wayans Jr., and Heather Graham. The film tells the story of a young lawyer named Susan Whitaker (Cook) who takes on a case to help a man named Nick Evans (Wayans Jr.) sue a dating website called Love Guaranteed. The film is light-hearted and entertaining, with many laughs and plenty of heart.
The movie starts with Susan, a divorce lawyer, struggling to keep her small law firm afloat. She is approached by Nick, who is frustrated with Love Guaranteed, the online dating website where he has been a member for over 1,000 days but has yet to find love. According to the website's "love guarantee" policy, if you don't find love within 1,000 days, you get a full refund. But Nick wants more than just his money back; he wants to sue the company for false advertising. As a lawyer, Susan is initially hesitant to take on the case, but after seeing Nick's sincerity and desperation, she decides to help him.
The two quickly establish a friendly rapport, and their chemistry is evident from the start. Meanwhile, Susan's personal life is also in flux as she struggles with her feelings for her ex-boyfriend, who happens to be a fellow lawyer at the firm. As Susan and Nick work on the case, they begin to spend more time together, and their relationship evolves from professional to romantic. However, they face several obstacles along the way, including the fact that Nick is still technically a Love Guaranteed member and therefore off-limits to Susan.
The case itself is fairly straightforward and predictable, but it serves as a backdrop for the real heart of the film: the burgeoning romance between Susan and Nick. The two leads have great chemistry and are both charming and likable. Cook is especially endearing as Susan, a hardworking and compassionate woman who is looking for love but is hesitant to let anyone in. Wayans Jr. is equally appealing as Nick, a genuine and kind-hearted man who is simply looking for someone to share his life with.
As the relationship between Susan and Nick grows, the film explores themes of trust, communication, and vulnerability. Both characters have been hurt in the past and are hesitant to open up, but they learn to lean on each other and support each other through their personal struggles. This emotional depth adds weight to the film and makes the romantic moments all the more satisfying.
The supporting cast is also noteworthy, with Heather Graham stealing the show as the eccentric Love Guaranteed CEO. Her character provides some much-needed comic relief and injects some energy into the film's more mundane moments. The rest of the cast is solid, if not particularly memorable.
The film's direction and pacing are both efficient, if not particularly innovative. There are some nice visual touches and some clever editing, but for the most part, the movie sticks to a tried-and-true formula. This isn't necessarily a bad thing, as the movie is meant to be a light-hearted romantic comedy and doesn't need to reinvent the wheel. However, those looking for a more unconventional or boundary-pushing film may find Love, Guaranteed a little too safe.
Overall, Love, Guaranteed is a charming and entertaining romantic comedy that should satisfy fans of the genre. The chemistry between Cook and Wayans Jr. is palpable, and the film's themes of trust and vulnerability add depth to the story. While it doesn't break new ground, it succeeds in what it sets out to do: make audiences laugh, swoon, and root for the two leads to find love.
Love, Guaranteed is a 2020 romance movie with a runtime of 1 hour and 30 minutes. It has received mostly poor reviews from critics and viewers, who have given it an IMDb score of 5.6 and a MetaScore of 39.