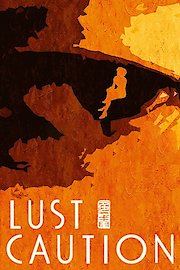 Watch Lust, Caution
"To kill the enemy, she would have to capture his heart... and break her own."
NC-17
2007
2 hr 38 min
61
Lust, Caution is an espionage thriller film set in Shanghai during World War II, directed by Ang Lee. The movie follows a group of Chinese resistance fighters who plot to assassinate Mr. Yi, an infamous pro-Japanese collaborator leader. The central character of the movie is Wong Chia Chi, a shy and reserved university student who was recruited by her former drama teacher to play a seductive role in the assassination plot. She adopts the alias of Mrs. Mak and gets close to Mr. Yi by pretending to be a wealthy merchant's wife. Mr. Yi falls for Mrs. Mak's charms and begins an affair with her, unaware of her true intentions.
The relationship between Mrs. Mak and Mr. Yi is the central plot of the movie, and it is incredibly complex. Their affair is passionate and lustful, punctuated with some of the most erotic sex scenes ever seen in mainstream cinema. Their chemistry and attraction are palpable, yet Mrs. Mak is always aware that she must remain focused on achieving her objectives. She is constantly tiptoeing the line between pleasure and duty, testing the limits of her loyalty to her country's cause.
The performances of Tony Chiu-Wai Leung as Mr. Yi and Tang Wei as Mrs. Mak are outstanding. Leung plays Mr. Yi with understated menace, a man who is corrupt and ruthless, yet is still intensely captivating to those around him. Tang Wei's portrayal of Mrs. Mak is a tour-de-force performance, capturing the complexity of a woman who must suppress her emotions to achieve her objectives, yet who also finds herself increasingly drawn to Mr. Yi.
Joan Chen plays Mrs. Yee, Mr. Yi's wife, whose role in the movie is also a crucial one. She is the character who sees through Mrs. Mak's act and becomes suspicious of her husband's infidelity. Mrs. Yee is a fascinating character, whose motivations are not always clear, adding another layer of intrigue to the movie.
The movie is visually stunning, with Lee's attention to detail evident in every frame. The sets and costumes are sumptuous, transporting the viewer to Shanghai in the 1940s. The cinematography is also noteworthy, with the camera lingering on the characters and their facial expressions, adding to the tension of the movie.
Lust, Caution is not an easy movie to watch, nor is it a simple one to describe. It is a complex exploration of love, duty, betrayal, and the human psyche, set against the backdrop of war-torn China. The movie contains scenes of graphic violence and sex, but these are not sensationalized; they are essential to the story and are presented in a manner that is both raw and realistic.
While the movie's pacing is deliberately slow, it never feels tedious. Lee maintains tension throughout the movie, building towards the climactic assassination scene. The final act of the movie is gripping and tense, with excellent use of editing and sound design to ratchet up the tension.
In summary, Lust, Caution is a masterpiece of filmmaking, with stunning visuals, outstanding performances, and a complex and compelling storyline. It is a thought-provoking movie that explores morality, loyalty, and the shades of gray that exist in the human heart.
Lust, Caution is a 2007 action movie with a runtime of 2 hours and 38 minutes. It has received moderate reviews from critics and viewers, who have given it an IMDb score of 7.5 and a MetaScore of 61.