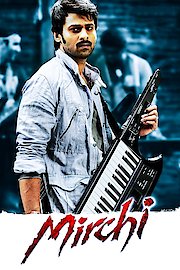 Watch Mirchi
NR
2013
2 hr 40 min
Mirchi is a 2013 Telugu-language action film directed by Koratala Siva and produced by Pramod Uppalapati and V. Vamsi Krishna Reddy under the banner UV Creations. The movie stars Prabhas, Anushka Shetty, and Richa Langella in lead roles while Sampath Raj, Sathyaraj, Nadhiya, Brahmanandam, and others appear in supporting roles. The film starts with Jai (Prabhas) returning to his hometown after completing his studies abroad. Jai is the grandson of a wealthy businessman (played by Kota Srinivasa Rao) who believes in good and evil. He believes that his grandson Jai is a good person, and he wants Jai to get married to the daughter of his friend. However, Jai falls in love with Manasa (Anushka Shetty), who is the daughter of Diwakar (Sampath Raj), a notorious aggressive factionist from the same town.
As Jai tries to get close to Manasa, things start to heat up between the two factions in the town. Jai eventually learns that his father (played by Sathyaraj) was killed by Diwakar, and he is only pretending to be a good person to get close to Manasa and take revenge. Meanwhile, Manasa falls in love with Jai and is unaware of his true intentions. The rest of the story is about how Jai and Manasa overcome the obstacles and bring peace to the town.
Prabhas shines in his role as Jai. He delivers a powerful performance as a young man seeking revenge for his father's death while also trying to win the heart of his love interest. His chemistry with Anushka Shetty is sizzling, and they share some touching moments on screen. Anushka Shetty, on the other hand, delivers a strong performance as the daughter of a factionist. She is convincing in her role, and her chemistry with Prabhas is palpable.
Sampath Raj plays the role of Diwakar, the main villain, with conviction. His performance as a ruthless and violent factionist is commendable. His henchmen, played by Tagubothu Ramesh and Satyam Rajesh, provide comic relief to the otherwise serious storyline. Brahmanandam, who appears in a brief role, also delivers a few laughs.
The music of the film, composed by Devi Sri Prasad, is foot-tapping and peppy. The songs "Mirchi" and "Pandagala" are the highlights of the album. The cinematography by Madhi is stunning, and the action scenes are choreographed brilliantly.
Overall, Mirchi is an entertaining and engaging film that keeps the audience hooked from the start to the end. The film has a good mix of romance, action, and drama. The performances of the actors are top-notch, and the direction, music, and cinematography are all stellar. The film's message of peace and harmony is also conveyed effectively. If you're a fan of Telugu cinema or action films in general, then Mirchi is a must-watch.
In conclusion, Mirchi is a well-crafted film that strikes a perfect balance between action and romance. It is a must-watch for fans of Prabhas and Anushka Shetty, and for those who enjoy the Telugu film industry. The film's message of peace and unity, conveyed through a well-written storyline and captivating performances, makes it even more appealing to a wider audience.
Mirchi is a 2013 action movie with a runtime of 2 hours and 40 minutes. It has received mostly positive reviews from critics and viewers, who have given it an IMDb score of 7.3.