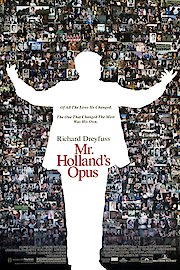 Watch Mr. Holland's Opus
"Of All the Lives He Changed, the One That Changed the Most Was His Own."
PG
1995
2 hr 23 min
59
Mr. Holland's Opus chronicles the adult years of a promising young composer. Richard Dreyfuss stars as the title character who has aspirations of writing the next musical masterpiece. At the age of 30, Mr. Holland finds himself married to a younger woman with whom he would like to spend more time with. Rather than devoting his time to creating his masterpiece, he decides to take a job at a local high school as the school's music teacher. His position is less than glamorous, as he soon learns even the football coach has a higher status with the faculty than he does. Mr. Holland soon makes friends with several people in administration who offer support in his efforts to remain true to his musical talent. When Mr. Holland decided to accept the position of music teacher he viewed it as something which would be temporary, but as the years pass, he learns to see his students as individuals. He learns what he has to offer them in the way of knowledge and expertise can make a difference in their lives. Because the movie spans a long period of time, there are often segments made as newsreels about the events taking place as decades go by. Through the years, Mr. Holland develops some personal relationships with a few of his students. These relationships are also shown through the years as in the case of one young man who tragically dies. Mr. Holland also faces personal struggles as he grows older and is revered less and less by younger generations of students. He is a passionate man, who is often driven to excel, which leads him to put in long hours with the students who do show promise in the field of music. While Mr. Holland never has time to work on his own musical masterpiece, his dream is always lingering in the back of his mind. There are times when he becomes frustrated and despondent over not having completed his piece and seeing it performed by a real orchestra. The ending to his story is an unexpected one, which allows Mr. Holland to see his opus come to life.