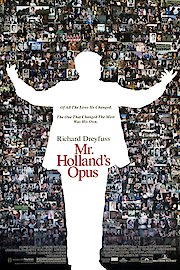 Watch Mr. Holland's Opus
"Of All the Lives He Changed, the One That Changed the Most Was His Own."
PG
1995
2 hr 23 min
59
Mr. Holland's Opus is a heartwarming drama film released in 1995. The film sheds light on the life of Glenn Holland (Richard Dreyfuss), a musician, and composer who has taken up the job of a high school music teacher to support his family while he struggles to compose an "opera." In the beginning, Holland is reluctant to take up the job at John F. Kennedy High School in Portland, Oregon, but eventually, he gets attached to his students and the school. Holland's journey as a teacher at John F. Kennedy High School is not easy initially, and he faces difficulties connecting with his students. However, his passion for music and commitment to his students drive him to try harder, even as he struggles with his diminishing opportunities in his personal career. Throughout the movie, we see Holland grow as a teacher as he becomes more patient and understanding of his students, who all come from different walks of life. He truly believes in the power of music education, and he makes it his goal to be there for every student that comes his way. The movie focuses on the events and trials that Holland faces in his personal and professional life, such as financial struggles, issues with his hearing, and conflicts with his family. The story unfolds slowly, giving the audience an opportunity to connect emotionally with the characters. Things do not always go smoothly for Holland, but he uses his setbacks to teach his students valuable lessons about resilience and determination. The film highlights that life may not always go according to plan, but overcoming obstacles can lead to unexpected and satisfying results. Mr. Holland's Opus also has a romantic storyline; Holland is married to a sassy and independent wife, Iris Holland (Glenne Headly), who is also pregnant with their son. Despite the unconditional love and support of his wife, Holland neglects her and their son while focusing on both his personal and professional goals. The dynamic between Holland and Iris is complex and complicated, adding to the overall emotional depth of the film. As his career progresses, Holland's dedication and passion for music education start to catch on, and he becomes an influential figure at his school. His inspired teachings gain national recognition, and the film ends with a moving tribute to him. Richard Dreyfuss's performance as Glenn Holland is excellent. His portrayal of a man chasing his dream while still being there for his students is authentic and relatable. Glenne Headly's character acts as a perfect foil to Holland, delivering witty and sharp one-liners while also being vulnerable in vulnerable situations. The cast also includes William H. Macy, playing a fellow teacher at the school who becomes one of Holland's closest friends. The film is accompanied by outstanding music by composer Michael Kamen, who provides several original compositions, seamlessly interspersed with famous classical pieces. Mr. Holland's Opus is an inspirational and thought-provoking film that beautifully portrays the power of music and education. The film is a timeless classic that addresses critical issues such as loyalty, integrity, personal growth, and sacrifice. Overall, the movie shows us that life is not always a seamless journey, but with patience and fortitude, one can achieve their dreams and make a meaningful impact on the world.