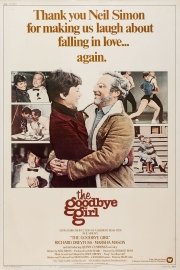 Watch The Goodbye Girl
PG
1977
1 hr 51 min
64
The Goodbye Girl, released in 1977 and directed by Herbert Ross, tells the charming story of a divorcee named Paula (Marsha Mason) who finds herself living in a New York City apartment with her ten-year-old daughter, Lucy (Quinn Cummings). Unbeknownst to Paula, the apartment has been subleased to an actor named Elliot Garfield (Richard Dreyfuss) who arrives with his belongings in tow, ready to move in.
Initially, Paula is furious with Elliot for taking over their living space, but soon the dynamic duo finds themselves coexisting in relatively peaceful conditions. As an actor, Elliot is frequently away for weeks or months at a time, so Paula and Lucy often have the apartment to themselves.
Elliot, who is in town for a production of Richard III, is determined to make a name for himself in the theater world. Meanwhile, Paula is a former dancer who is struggling to make ends meet by working odd jobs. She dreams of finding a steady paycheck and a stable father figure for Lucy.
The two begin to develop a friendship, although Elliot's cluelessness occasionally annoys Paula, who is wary of getting too close to anyone after going through a traumatic divorce. Paula's ex-husband, Tony (played by Paul Benedict), cheated on her with one of her best friends, causing her to lose both her marriage and her sense of security.
As Paula and Elliot begin to grow closer, they encounter a variety of obstacles that threaten to derail their budding relationship. In particular, Paula's skepticism about Elliot's acting skills results in a heated argument that ends with Elliot storming out of the apartment. However, the two make up after Elliot delivers a heartfelt monologue that Paula deems worthy of a professional stage.
The movie is filled with hilarious moments and complications that test the characters' resilience and fortitude. While it's a romantic comedy at heart, the film doesn't shy away from discussing serious issues such as the perils of single motherhood and the cutthroat nature of show business.
The Goodbye Girl's standout performances come from Marsha Mason and Richard Dreyfuss, both of whom were nominated for Academy Awards for their work in the film. Mason stands out as a strong, independent woman who refuses to take any nonsense from the men in her life. Dreyfuss, meanwhile, gives a vulnerable and nuanced turn as a struggling actor who is determined to make it big.
The film's script, written by Neil Simon, is characteristically witty and filled with memorable one-liners. Simon is a master of the romantic comedy genre, and The Goodbye Girl is no exception. The film's humor is timeless and appeals to audiences of all ages.
The Goodbye Girl is also notable for its depiction of New York City in the late 70s. The city is portrayed as gritty and urban, with busy streets and crowded subways. The film's location shooting adds a level of authenticity to the story that sets it apart from other rom-coms of the era.
Overall, The Goodbye Girl is a classic romantic comedy that has stood the test of time. With its sharp writing, brilliant performances, and heartwarming story, the film is a must-see for anyone who loves a good love story.
The Goodbye Girl is a 1977 comedy with a runtime of 1 hour and 51 minutes. It has received moderate reviews from critics and viewers, who have given it an IMDb score of 7.4 and a MetaScore of 64.