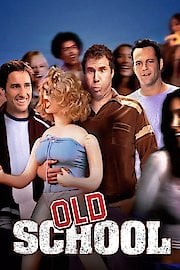 Watch Old School
"All the fun of college, none of the education."
R
2003
1 hr 31 min
54
Old School is a 2003 comedy movie that follows the story of three friends who try to relive their college days by starting a fraternity. The movie stars Luke Wilson as Mitch, Vince Vaughn as Bernard, and Will Ferrell as Frank. The film is directed by Todd Phillips, who would later go on to direct other hit comedies such as The Hangover.
The movie begins by introducing us to Mitch (Wilson), who is going through a rough patch in his life. He has just broken up with his girlfriend, and his boss informs him that he is being let go from his job. To make matters worse, he finds out that his girlfriend was cheating on him with a famous athlete. In an effort to put his life back on track, Mitch decides to move into a house that his friends Bernard (Vaughn) and Frank (Ferrell) have rented.
Bernard and Frank are living their best lives, throwing parties every night and enjoying the freedom of not having any responsibilities. They are excited to have Mitch join them, and the three quickly become close friends again. However, things take an unexpected turn when the neighbors call the police to complain about the noise from their parties. To avoid getting in trouble, the friends decide to start their own fraternity that will allow them to party all they want without any disturbances.
As they begin their journey of starting a fraternity, Mitch, Bernard, and Frank are forced to face a series of challenges. They must convince the university dean to let them start a new fraternity, recruit members, and organize events that will attract a crowd. Along the way, they meet a diverse group of characters who each bring their own unique personality to the group.
Despite facing setbacks and obstacles, the friends are determined to make their fraternity a success. They come up with wild and hilarious ideas to attract new members, including a toga party, streaking through the quad, and even jumping into a pool with live sharks. They also engage in a series of hilarious antics, such as stealing a rival fraternity's mascot and competing in an epic debate with their arch-nemesis, the dean's snobbish son.
Old School is a wild and raunchy comedy that will have you laughing from start to finish. The movie cleverly balances humor with heart, as we see Mitch, Bernard, and Frank navigate the challenges of adulthood and attempt to recapture their youth. The performances of Wilson, Vaughn, and Ferrell are top-notch, with each actor bringing their unique comedic style to their respective characters. The supporting cast is also excellent, with memorable performances by Jeremy Piven, Ellen Pompeo, and Juliette Lewis.
Overall, Old School is a classic comedy movie that is just as funny today as it was when it first premiered in 2003. The film is a must-watch for anyone who enjoys a good laugh and wants a break from the stresses of adult life. From its hilarious one-liners to its memorable party scenes, Old School is a comedy gem that will leave you wanting more.
Old School is a 2003 comedy with a runtime of 1 hour and 31 minutes. It has received moderate reviews from critics and viewers, who have given it an IMDb score of 7.0 and a MetaScore of 54.