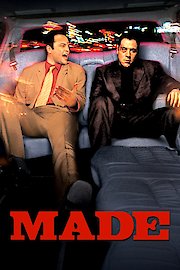 Watch Made
"A film by Callum Swift"
R
2001
1 hr 34 min
62
"Made" (2001) is a comedy movie directed and produced by Jon Favreau, who also stars in the film alongside Vince Vaughn and Joe Goossen. The film follows the story of two struggling boxers, Bobby (Favreau) and Ricky (Vaughn), who get involved in a money-laundering scheme while traveling to New York City. The movie begins with Bobby and Ricky working as laborers in Los Angeles. Ricky, who talks too much and is a bit of a hot head, constantly gets into trouble, which causes Bobby to come to his rescue. One day, Ricky convinces Bobby to go to New York with him to do a job for Max (Peter Falk), a powerful mobster. Bobby is hesitant at first, but eventually agrees to go with Ricky. While in New York, Max introduces them to his associate, a British gangster named Ruiz (Sean Combs).
Ruiz assigns Bobby and Ricky to do a favor for him by delivering a package to a mysterious woman named Jessica (Famke Janssen). The job seems easy enough, but things quickly turn complicated when they discover that the package contains a strip club manager's cell phone, which is used to launder money for Ruiz. To make matters even worse, Ricky's tendency to talk too much draws the attention of the police.
Bobby and Ricky become increasingly desperate as they try to keep their heads above water, while also avoiding the wrath of Ruiz and his criminal associates. Along the way, the two men have conversations about their past and present lives that reveal their deep friendship and loyalty to each other.
What makes "Made" an enjoyable movie to watch is the chemistry between Favreau and Vaughn. The two actors have been friends and collaborators for many years, and this film showcases their natural banter and comedic timing. Favreau, who also wrote the screenplay, imbues the film with moments of absurdity and humor that lighten the mood of an otherwise tense situation. Vaughn, on the other hand, brings his signature fast-talking style to his role, which works well with Ricky's impulsive and energetic personality.
Joe Goossen, who plays the role of Joe, a trainer who helps Bobby and Ricky with their boxing skills, is also a standout in the movie. His character is gruff and no-nonsense, but he's also kind enough to take the two men under his wing when they need guidance.
Aside from the performances, "Made" succeeds in depicting the gangster underworld in a way that feels authentic but not too dark or violent. Favreau, who made his directorial debut with "Swingers" (1996), another buddy comedy that starred Vaughn, clearly has a love for exploring friendship and male bonding in his films. "Made" is no exception, as it delves into the complexities of male relationships and how men communicate with each other.
Overall, "Made" is a fun movie that entertains with its jokes, action, and engaging characters. The film's themes of loyalty, friendship, and redemption resonate with audiences, and the chemistry between Favreau and Vaughn makes it a joy to watch. Fans of comedy movies with a touch of gangster elements will enjoy this film.
Made is a 2001 comedy with a runtime of 1 hour and 34 minutes. It has received moderate reviews from critics and viewers, who have given it an IMDb score of 6.3 and a MetaScore of 62.