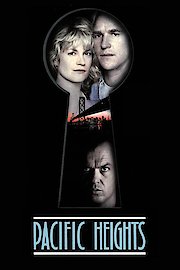 Watch Pacific Heights
"They were the perfect couple, buying the perfect house. Until a perfect stranger moved into their lives."
R
1990
1 hr 42 min
55
Young lovers Drake (played by Matthew Modine) and Patty (played by Melanie Griffith) think they've hit the jackpot when they buy a vintage fixer upper in the prestigious Pacific Heights district to turn into their dream home. In order to pay for the renovations, they decide to rent out the building to tenants. One of these tenants is Carter Hayes (played by Michael Keaton), a suspicious character who offers to pay an exorbitant amount of money upfront if Drake will forgo performing a background check on him. Hayes movies in quickly, and things take a turn for the worse when he fails to deliver the money as promised. He never leaves the apartment, and he constantly makes noises that disturb both Patty and Drake as well as the other tenants. What starts off as inconveniences soon turn invasive and violent as Hayes reveals his true colors. When Patty and Drake find that they are unable to have Hayes evicted, they must resort to drastic measures to reclaim both their home and their lives from a man who is determined to ruin them.