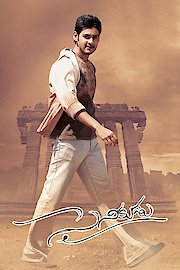 Watch Sainikudu
Sainikudu is a 2006 Telugu action drama film directed by Gunasekhar and featuring Mahesh Babu, Trisha Krishnan, and Irrfan Khan in lead roles. The movie was produced by Ashwini Dutt under the banner of Vyjayanthi Movies. The story of Sainikudu revolves around Siddharth (Mahesh Babu), an environmental activist who fights for the rights of his village and its people. Siddharth falls in love with his childhood friend and love interest Bhoomi (Trisha Krishnan), who shares the same interests and values as him. However, their happy lives are shattered when the Chief Minister (Kota Srinivasa Rao), who is known for his corrupt practices and does not care about the environment or the people, declares his intention to build a Special Economic Zone in their village.
Siddharth and Bhoomi start a peaceful protest against this, but it is met with violent resistance from the government and the police. The situation worsens when the Chief Minister dies under mysterious circumstances, and the blame is put on Siddharth and his team. The rest of the movie focuses on Siddharth's fight to prove his innocence and bring justice to his village.
Mahesh Babu's performance in the movie is highly praised, and he is shown in a different role from his usual stylish and action-oriented ones. He plays a simple, down-to-earth character who cares about his village and its people. Trisha Krishnan also does well as the supportive and strong-willed Bhoomi. However, the standout performance comes from Irrfan Khan, who plays an investigating officer named Pappu Yadav. Irrfan's portrayal of the witty and sarcastic character is one of the highlights of the movie.
The action sequences in Sainikudu are well-choreographed and intense, and the movie also features several emotional and heartwarming moments. The music composed by Harris Jayaraj is also noteworthy, especially the songs "Sahara" and "Adugaduguna."
Sainikudu received mixed reviews upon its release, with some critics citing the slow pacing and lack of originality as drawbacks. However, it was a commercial success and performed well at the box office. The movie is also known for its social message and themes of environmental awareness and corruption.
In conclusion, Sainikudu is a decent action drama with a strong social message and great performances from its lead actors. It may not be a perfect movie, but it is definitely worth a watch for fans of Mahesh Babu or the genre.