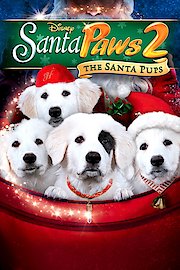 Watch Santa Paws 2: The Santa Pups
"One Magical Wish Can Change Everything !"
G
2012
1 hr 28 min
The second Santa Paws movie, Santa Paws 2: The Santa Pups is a children's movie directed, written and produced by Robert Vince. A sequel to the first movie Santa Paws 2 stars Cheryl Ladd, George Newbern, Pat Finn, Danny Woodburn, and Obba Babatunde. Designed for the entire family Santa Paws 2 is a brand new Disney movie all about the magic of Christmas and how important family and Christmas spirit is. In this movie, a completely new set of puppies come along and a completely new adventure is born. Now that the puppies are a little older, they grow bored and mischievous in the same old surroundings and start looking for ways to have fun and amuse themselves. When they hear that Mrs. Claus is on her way to Pineville, the puppies get excited and want to go along. When it looks like they might not be able to go, they decide to stow away on Mrs. Clauses sled in order to go with her and play with the village children. After arriving in Pineville, the puppies devise a way to have fun: start granting all the wishes of the children around the village. The puppies enjoy this and initially the children are grateful, however, as the children of Pineville start seeing their deepest and dearest Christmas wish coming true, they start to get greedy and lose their Christmas spirit. Unfortunately, the puppies realize too late, what they have done and risk Christmas for the entire world. Understanding they were just having fun, Mrs. Clause sets them on a new adventure: the puppies must help her get the Christmas spirit back and save Christmas for the planet. Their quest to save Christmas leads Mrs. Clause and her adorable talking, wish granting puppies in a quest around the world so they can save Christmas before the clock runs out. This movie is great for the entire family and is filled with Christmas cheer, adventure, love and hope.