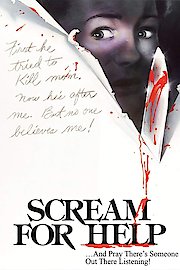 Watch Scream for Help
"Alone And Afraid... Was She Imagining Or Was It Real..."
R
1984
1 hr 29 min
Scream for Help is a 1984 thriller movie directed by Michael Winner. The film revolves around Christie Cromwell (Rachael Kelly), a teenage girl who believes her stepfather, Paul Fox (David Allen Brooks), is involved in the disappearance of her mother. The movie starts with Christie witnessing her mother's car sink into a river during a late-night drive. Her stepfather, Paul, claimed that her mother had left them, but Christie was not convinced. She begins to investigate her stepfather's background and becomes increasingly disturbed by his behavior. As she delves deeper into the mystery, Christie discovers a web of lies and deceit that threatens her own safety. She is aided in her investigation by a neighbor, Gary Gilmore (David McCallum), who believes there is some truth to her suspicions. Christie's stepfather, Paul, is a highly manipulative and wealthy businessman who will stop at nothing to keep his secrets hidden. He uses his influence and connections to keep Christie in check and prevent her from revealing the truth about him. As the mystery deepens, Christie becomes more and more isolated, and her safety is put in jeopardy. She realizes that she must act fast and uses her wit and resourcefulness to outsmart her stepfather and his accomplices. The film is a thriller that keeps the audience on the edge of their seats. It has a tense and suspenseful atmosphere that creates a feeling of unease throughout the movie. The twists and turns in the plot keep the audience guessing until the very end. The performances in the movie are strong, especially Rachael Kelly's portrayal of Christie, who is a determined and resourceful young woman. David Allen Brooks is also convincing as the villainous stepfather, Paul Fox, who is manipulative and unscrupulous in his pursuit of wealth and power. The movie has a dark and foreboding tone, with scenes that are disturbing and unsettling. The violence and gore in the film are not excessive, but they are enough to make the audience squirm in their seats. Overall, Scream for Help is a gripping thriller that will keep you hooked until the very end. The film is well-made, with strong performances and a well-crafted plot that will keep you guessing. It is a must-see for fans of the genre and anyone who enjoys a good mystery.