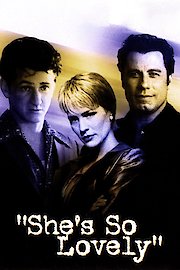 Watch She's So Lovely
R
1997
1 hr 40 min
61
She's So Lovely is a romantic drama film from 1997 that stars Sean Penn, Robin Wright, and John Travolta. Directed by Nick Cassavetes and written by John Cassavetes, the film revolves around the tumultuous relationship between two lovers who are trying to overcome their respective demons. The story begins with a young couple named Eddie and Maureen, played by Penn and Wright, respectively. They are clearly in love, but their relationship is complicated by Eddie's struggle with alcoholism and Maureen's past traumas. Despite these challenges, they seem to be making things work, and they have two young children together.
However, things take a turn for the worse when Eddie is suddenly taken away to a mental institution after a violent episode. Maureen is left alone to care for their children, and she struggles to make ends meet while also dealing with her own emotional baggage. She knows that Eddie is not well, but she still loves him and wants to be with him.
Fast forward ten years, and Eddie is finally released from the institution. He immediately seeks out Maureen and their children, but his return is not met with open arms. Maureen has moved on and is now married to a man named Joey, played by Travolta, who has been a stable presence in her life.
Eddie is heartbroken to learn that Maureen has moved on, but he is determined to win her back. He becomes increasingly erratic and starts causing trouble, which puts Maureen and their children in danger. Joey tries to intervene and protect his family, but Eddie will stop at nothing to be with the woman he loves.
As the film unfolds, we see the complex web of emotions and relationships that exist between these characters. It becomes clear that Eddie is deeply troubled and unable to control his impulses, while Maureen is torn between her love for him and her desire for stability. Joey, too, has his own demons to contend with, as he struggles to maintain his composure in the face of the chaos around him.
What makes She's So Lovely so compelling is the raw honesty of the performances. Penn and Wright are both brilliant in their respective roles, portraying the intense emotions of two people who are struggling to find their way in the world. Travolta is also excellent as the steady, somewhat stoic presence in Maureen's life.
The film also benefits from its visual style, which is reminiscent of the gritty, independent films of the 1970s. The camera work is often shaky and handheld, which adds to the sense of rawness and immediacy. The music, too, is a mix of melancholy and upbeat tunes, perfectly capturing the mood of each scene.
Overall, She's So Lovely is a powerful and emotional film that explores the complexities of love, addiction, and mental illness. The performances are top-notch, and the story is both heartbreaking and hopeful. It's a must-see for fans of character-driven dramas and anyone who appreciates honest storytelling.
She's So Lovely is a 1997 drama with a runtime of 1 hour and 40 minutes. It has received moderate reviews from critics and viewers, who have given it an IMDb score of 5.9 and a MetaScore of 61.