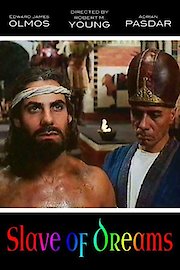 Watch Slave of Dreams
Slave of Dreams is a visually stunning historical drama set in ancient Egypt, directed by Robert M. Young and released in 1995. The film stars the talented trio of Edward James Olmos, Sherilyn Fenn, and Adrian Pasdar. The story is set in the reign of the great Egyptian pharaoh, Ramses III. Olmos, in a powerful performance, plays Ramses' chief architect, Ipuy. Ipuy is a slave who has earned the trust of the pharaoh and has been tasked with the immense responsibility of overseeing the construction of a grand temple dedicated to the god Amun-Ra.
As the story unfolds, we see that Ipuy is a deeply conflicted character. On the one hand, he is a devout follower of his pharaoh and is willing to do whatever it takes to complete the temple. On the other hand, he is a slave who dreams of freedom and longs to reunite with his wife and daughter, who were sold into slavery years earlier.
Fenn plays the role of Tauret, a beautiful woman who is brought in as a slave to Ipuy's household. Tauret is drawn to Ipuy, but their relationship is complicated by the fact that she is also coveted by Pasdar's character, Bayek, a wealthy nobleman who is a rival to Ipuy.
As the construction of the temple progresses, tensions mount between Ipuy and Bayek, and the stakes become even higher when Ramses learns that there is a plot to assassinate him. Ipuy must navigate the treacherous political landscape of ancient Egypt while dealing with his own personal pain and longing for freedom.
The film is a beautiful tribute to ancient Egyptian culture, with stunning sets, costumes, and visuals that transport the viewer to another time and place. The attention to detail is impeccable, and the film features authentic music, hieroglyphics, and other artifacts of the period.
One of the most striking aspects of the film is the way it portrays the harsh reality of slavery in ancient Egypt. The film does not sugarcoat the brutality and oppression that slaves endured, and Olmos gives a powerful performance as a man who must navigate this system with dignity and strength.
Overall, Slave of Dreams is a beautifully crafted historical drama that explores themes of power, politics, and personal identity. The performances are strong across the board, and the film is a feast for the eyes and the mind. It is a must-see for anyone interested in ancient Egyptian history or in powerful stories of personal struggle and triumph.