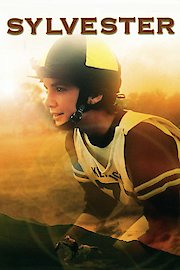 Watch Sylvester
"Her greatest victory waits at the edge of the most dangerous moment of her life."
PG
1985
1 hr 43 min
Sylvester is an emotionally intense movie of a horse trader named Harry (Richard Farnsworth) and his relationship with his granddaughter Charlie (Melissa Gilbert). As the story unfolds, we are introduced to their complicated family dynamics and the fierce competition that exists in the equestrian world. Harry is a passionate horseman who has dedicated his entire life to the trade. He is a horse whisperer who can communicate with the animals in a way that few people can. He is a gruff and stubborn old man, but he has a soft spot for his granddaughter Charlie, who shares his passion for horses. Harry's daughter, Charlie's mother, had passed away when Charlie was young, leaving Harry to raise her.
Charlie is determined to become a champion rider, and Harry supports her dream. She has been working hard on her horse, a beautiful mare called Sylvester, and she's confident that she can win the upcoming competition. However, Harry is skeptical. He has seen many young riders come and go over the years, and he knows how tough the competition can be. He worries that Charlie is not ready for the challenge.
On the day of the competition, Charlie and Sylvester give a spectacular performance that catches Harry's attention. He sees that his granddaughter is a natural rider, and he begins to believe that she could be a champion. However, things take a turn for the worse when a ruthless competitor named Amos (Michael Schoeffling) decides to press charges against Harry for allegedly stealing one of his horses.
The legal battle puts their entire family at risk, and Harry is forced to turn to an old friend for help. Charlie's dream of becoming a champion rider is now in jeopardy, and she struggles to come to terms with the fact that the legal battle might cost her everything she has worked so hard for.
Sylvester is a beautiful movie that explores the relationship between a grandfather and granddaughter who share an unbreakable bond. The performances are outstanding, with Richard Farnsworth delivering a powerful and emotional performance as Harry. Melissa Gilbert also shines as Charlie, conveying the passion and dedication of a young rider who is determined to succeed.
The movie also delves into the competitive world of horse riding, portraying the cutthroat nature of the sport and the level of determination needed to succeed. Michael Schoeffling gives a convincing performance as the ruthless competitor Amos, who is willing to do anything to win.
Additionally, the movie features breathtaking shots of the beautiful landscapes of Montana, creating a stunning backdrop for the story. The cinematography is excellent, capturing the majesty of the horses and the bond between Harry and Charlie.
In conclusion, Sylvester is a touching movie that showcases the power of love and determination in the face of adversity. The cast delivers strong performances, and the storyline is emotionally gripping. The movie is a must-watch for anyone who loves horses, family dramas, or inspiring underdog stories.
Sylvester is a 1985 drama with a runtime of 1 hour and 43 minutes. It has received moderate reviews from critics and viewers, who have given it an IMDb score of 6.3.