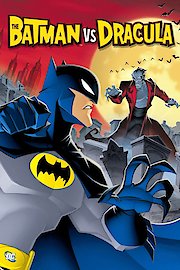 Watch The Batman vs. Dracula
"There's another bat in Gotham..."
NR
2005
1 hr 25 min
The Batman vs. Dracula is an animated movie that was released in 2005. This movie is part of The Batman animated television series, though it has a much darker tone to it. When The Joker and Penguin escape from Arkham Asylum, the race is on to find hidden loot in Gotham Cemetery. When Batman shows up to stop the criminals, The Joker is electrocuted in a river by his own twisted joy buzzers. Still hunting for the loot, Penguin cuts himself and accidentally brings the evil vampire Count Dracula to life. Now Gotham City is in big trouble with the evil Count Dracula on the lose and in cahoots with Penguin. The situation gets even more complicated when Dracula decides to sacrifice Vicki Vale (in her first animated appearance) to bring his corpse bride Camilla back from the dead. Batman must now find a way to cure all of Dracula's victims and save Vicki Vale.