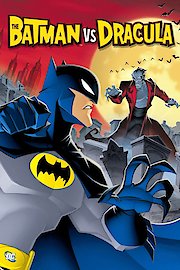 Watch The Batman vs. Dracula
"There's another bat in Gotham..."
NR
2005
1 hr 25 min
In the movie The Batman vs. Dracula, released in 2005, the Caped Crusader faces off against one of his most famous villains: Dracula. The film is based on the characters from the DC Comics universe and is directed by Michael Goguen. The story begins with the vampire king, Dracula, being revived by the Joker, who finds the hidden coffin with Dracula's remains in the Gotham Cemetery. Dracula, now awake, is determined to conquer the city of Gotham and turn everyone into vampires. But before he can do that, he needs to find a suitable bride – and he's set his sights on Vicki Vale, a journalist who's investigating the recent rise in vampire attacks in Gotham.
Meanwhile, Batman is on the case, trying to figure out who's behind the attacks. When he discovers that Dracula is behind it all, he's determined to stop him – but he'll need all the help he can get. Along with his trusty sidekick, Robin, and his faithful butler, Alfred, Batman sets out to stop Dracula and save Gotham from eternal darkness.
As the story unfolds, we see Batman and Dracula engage in an intense battle of wits and brawn, with each trying to outsmart the other. Dracula, who's used to getting his way, is taken aback by Batman's resilience and determination to stop him at all costs. Batman, on the other hand, is faced with an enemy he's never encountered before – one who can turn into a bat and fly away at a moment's notice.
The animation in The Batman vs. Dracula is top-notch, with the characters rendered in a style that's both classic and modern. The voice acting is also excellent, with Rino Romano bringing his signature gravelly tone to the role of Batman and Peter Stormare delivering a suitably menacing performance as Dracula. Other notable voices include Tara Strong as Vicki Vale and Tom Kenny as the Penguin.
One of the highlights of the film is the action sequences, which are expertly choreographed and take full advantage of the animated format. Whether Batman is scaling a high-rise building or battling Dracula in mid-air, the animation allows for a level of spectacle that would be difficult (if not impossible) to achieve in live-action.
At its core, The Batman vs. Dracula is a classic battle between good and evil, with Batman taking on a supernatural foe who's more dangerous than any of the criminals he's faced before. But it's also a tale of redemption and sacrifice, as both Batman and Dracula are forced to make tough choices in order to protect the ones they love.
Overall, The Batman vs. Dracula is a thrilling animated adventure that's sure to delight fans of both Batman and classic horror films. With its expertly crafted animation, exciting action sequences, and engaging story, it's a worthy addition to the Batman canon and a must-see for anyone who loves superhero movies.
The Batman vs. Dracula is a 2005 animated movie with a runtime of 1 hour and 25 minutes. It has received mostly positive reviews from critics and viewers, who have given it an IMDb score of 6.6.