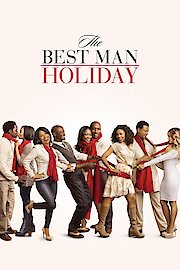 Watch The Best Man Holiday
"Times change. Friendship doesn't."
R
2013
2 hr 3 min
59
The Best Man Holiday is sequel to the 1999 film The Best Man, a few of the movies stars are Taye Diggs, Sanaa Lathan, Nia Long, Morris Chestnut, Terrence Howard, and Monica Calhoun. The sequel reunites the group after a 15 year break from each others lives for the Christmas holiday weekend. The original version revealed Mia and Harper juicy secret revealed in Harper's book, but that is nothing compared to what you will see in part 2. Prepare to see new secrets revealed, friendship, and relationships tested, and a new love interest. In the sequel Lance is still upset about Harper and Mia situation, Shelby is still manipulative, and Quentin has changed either. Be prepare to witness confrontations, unwanted tension, and a ton of drama.