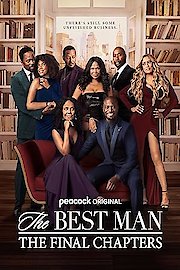 Watch The Best Man: The Final Chapters
TV-MA
2022
1 Season
The Best Man: The Final Chapters is a Peacock original limited series that serves as a continuation of the popular 1999 film The Best Man and its 2013 sequel The Best Man Holiday. Premiering in 2022, the show reunites the ensemble cast including Morris Chestnut, Melissa De Sousa, Taye Diggs, Regina Hall, Terrence Howard, Sanaa Lathan, Nia Long, Harold Perrineau, and Monica Calhoun.
Picking up years after the events of the previous films, The Final Chapters finds the group of college friends now navigating their 40s. As their relationships and lives have evolved, they come together during a milestone event that promises to change their lives forever. Over the course of the limited series, familiar faces from the franchise reemerge to take part in the fun and drama.
At the center of the story is Harper Stewart, portrayed by Taye Diggs. Now a bestselling author and married to Robyn, played by Sanaa Lathan, Harper is facing a creative crisis and pressure from his publisher to write another book. Meanwhile, Lance Sullivan, played by Morris Chestnut, is embarking on a political campaign that could make history if he wins. His wife Mia, reprised by Monica Calhoun, serves as a grounding force amidst the chaos of the high-profile race.
As always, the circle of friends leans on each other for support. Regina Hall returns as Jordan Armstrong, who is thriving as a cable news anchor. Harold Perrineau and Melissa De Sousa reprise their roles as Julian Murch and Shelby, respectively, with their trademark humor and hijinks. Candace, played by Nia Long, is finding success as a lifestyle guru, while Quentin, portrayed by Terrence Howard, faces complications in his relationships.
Over the course of eight episodes, The Final Chapters explores the complex bonds and ever-changing dynamics between this tight-knit group of friends. They laugh and clash as they navigate career highs and lows, the challenges of parenthood, and the surprises life throws their way. At its heart, the show is a celebration of friendship and the family we choose.
With quick-witted dialogue, relatable characters, and plenty of nostalgia for fans of the original films, The Best Man: The Final Chapters offers a satisfying reunion with a beloved cinematic universe. While catching up with old friends, viewers can expect laughs, tears, romance, and the twists and turns that come with growing up and growing older together.
The Best Man: The Final Chapters is a series that is currently running and has 1 seasons (8 episodes). The series first aired on December 22, 2022.