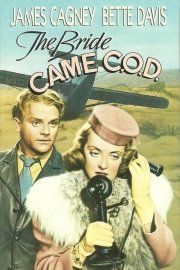 Watch The Bride Came C.O.D.
"She Came Collect and his heart paid the freight . . . in the year's romantic explosion !"
Approved
1941
1 hr 32 min
In the movie The Bride Came C.O.D., James Cagney plays Steve Collins, a brash and cocky pilot who is hired by a wealthy socialite named Joan Winfield (played by Bette Davis) to fly her to Las Vegas to stop her sister from marrying a playboy musician. However, Collins is surprised when Winfield informs him that she has no intention of paying him for his services and plans to bring him to court if he doesn't comply with her demands. This sets off a chain of hilarious misadventures as the two characters struggle to make it to their destination while bickering and constantly getting into trouble along the way. The chemistry between Cagney and Davis is palpable, and their performances are charming and engaging. Davis delivers a standout performance as the headstrong and determined Joan Winfield, who is used to getting her own way and refuses to let anything stand in her path. Cagney, on the other hand, plays a playful and mischievous character, who is not afraid to use his charm and wit to get what he wants. Together, they make a formidable duo, constantly challenging each other and trading barbs, but ultimately developing a deep respect and affection for one another. The film is a delightful screwball comedy, filled with wacky supporting characters, slapstick routines, and clever one-liners. Stuart Erwin, who plays the hapless and dimwitted husband-to-be of Joan's sister, is particularly amusing, as is Eugene Pallette, who plays a stubborn and ornery oil tycoon who gets caught up in the hijinks. The movie is fast-paced and entertaining, with plenty of twists and turns to keep the audience engaged from beginning to end. While the film is certainly a product of its time, with some elements that may feel outdated or offensive to modern audiences, it still holds up as a classic piece of cinematic history. The Bride Came C.O.D. is a lighthearted and heartwarming tale of two unlikely companions who find love and adventure in unexpected places. It's a delightful escape from reality, filled with humor, charm, and romance. Overall, The Bride Came C.O.D. is a must-see for fans of classic Hollywood cinema, as well as anyone who enjoys a good screwball comedy. With its talented cast, witty writing, and charming storyline, it's a true gem of the golden age of movies. Whether you're a die-hard James Cagney or Bette Davis fan, or simply in the mood for a good old-fashioned laugh, this film is sure to delight and entertain. So sit back, relax, and enjoy the ride as two unlikely partners take to the skies in pursuit of love and adventure!