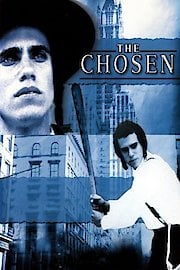 Watch The Chosen
"One boy. Two worlds. A time to choose."
PG
1981
1 hr 48 min
66
The Chosen, released in 1981, is a touching coming-of-age story that follows the friendship between two Jewish boys, Danny and Reuven, growing up in Brooklyn during the 1940s. The film, based on the novel by Chaim Potok, delves into the complexities of Jewish traditions, culture, and beliefs while exploring themes of friendship, family, and identity.
Maximilian Schell stars as Reb Saunders, the stern and authoritarian father of Danny, who wants his son to become a Hasidic rabbi like himself. However, Danny is drawn to secular literature and ideas, which puts him at odds with his father and the rest of his community.
Robby Benson portrays Reuven, the son of a liberal and open-minded professor (played by Rod Steiger) who encourages his son to broaden his knowledge beyond traditional Jewish studies. Reuven and Danny's unlikely friendship develops through playing sports with their peers but is put to the test when their fathers' beliefs clash during a heated debate in their school.
The Chosen is a poignant film that beautifully captures the struggles of growing up, the complexities of religion and culture, and the power of friendship. The movie an excellent job of conveying the weight of family expectations and the desire to break free from them to forge one's path.
Throughout the movie, the contrast between the Hasidic and Modern Orthodox communities is carefully explored. The Hasidic way of life is portrayed as strict and suffocating, relying heavily on tradition and a strict adherence to customs. In contrast, the Modern Orthodox are seen as more open to secular influences, with a greater emphasis on learning and intellectual exploration.
The movie's soundtrack is worth mentioning too. Composed by Jerry Goldsmith, the music complements the story, weaving together a mix of traditional Jewish melodies and modern symphonic elements.
The Chosen boasts impressive performances from all the cast, particularly Maximilian Schell and Rod Steiger, whose characters are in constant conflict with each other. Robby Benson is also remarkable, portraying Reuven with a quiet strength that makes it easy to root for him.
In conclusion, The Chosen is a touching film that explores the complexities of faith, friendship, and identity. Directed by Jeremy Kagan, the movie is a timeless classic with timeless themes that still resonate today. Highly recommended for fans of coming-of-age dramas and anyone interested in the complexities of religion and culture.
The Chosen is a 1981 drama with a runtime of 1 hour and 48 minutes. It has received mostly positive reviews from critics and viewers, who have given it an IMDb score of 7.2 and a MetaScore of 66.