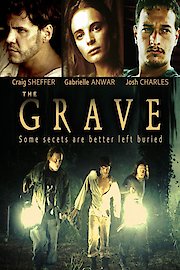 Watch The Grave
"Some secrets are better left buried."
R
1996
1 hr 30 min
In the 1996 film The Grave, we follow two ex-convict friends, Travis (Craig Sheffer) and Derek (Josh Charles), who are trying to start a new life outside of prison but struggling to find work. They stumble upon an opportunity to make quick cash by stealing a valuable artifact from a wealthy collector's mansion. However, the job goes awry when Travis discovers an old tomb in the mansion's backyard and accidentally awakens an ancient evil.
Things take a dark turn when the friends start experiencing strange occurrences linked to a ghost of the past who won't let them leave the tomb's vicinity. With time running out, Travis and Derek must uncover the truth about the tomb's dark history and find a way to escape before it's too late.
Meanwhile, Travis falls in love with the beautiful and enigmatic Lane (Gabrielle Anwar), who is also fighting to survive the malevolent forces that have awakened. She adds layers of complexity to the story, withholding her own secrets and motivations until the very end.
The Grave is a suspenseful horror-thriller that relies heavily on atmosphere and mood to build tension. The graveyard and the mansion grounds set up an eerie, claustrophobic environment that traps the characters within their own nightmares. Every shot is steeped in shadow and fog, making it difficult to separate the real from the supernatural.
Sheffer and Charles deliver solid performances as the ex-convicts, balancing their rough exterior with their genuine desire to do good. Anwar's performance is captivating, oscillating between determined and vulnerable as Lane questions her own motives and allegiances.
Director Jonas Pate crafts a visually stunning, macabre world that is both menacing and gorgeous, relying on practical effects and old-school filmmaking techniques to create a haunting and chilling atmosphere.
The Grave is an effective thriller that doesn't aim to reinvent the genre, but rather harkens back to classic horror tropes and executes them with precision. It's a chilling tale of greed, redemption, and the darkness that lurks within us all.
The Grave is a 1996 crime movie with a runtime of 1 hour and 30 minutes. It has received moderate reviews from critics and viewers, who have given it an IMDb score of 5.7.