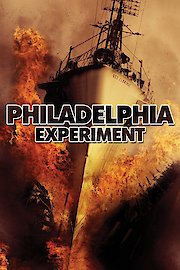 Watch The Philadelphia Experiment
"Past and present collide"
PG-13
2012
1 hr 29 min
The Philadelphia Experiment is a 2012 TV movie based on the alleged experiment the movie is named after, which is a ploy by scientists to create a cloaking device to render US warships invisible, and thus not able to be attacked by the enemy in times of war. The experiment worked once before, and when done successfully again, the original ship, the Eldridge is brought back, with catastrophic events following it. One survivor is brought back when the Eldridge returns, a Lieutenant, and he escapes. The ship disappears and reappears randomly throughout the film, and when it reappears, it's never in the same spot. The Lieutenant must be found, and the ship must be sent back before he or the ship are destroyed, which would cause disastrous effects on the globe and humanity. The chief scientist must stop the experiment's director from doing either of these in order to put an end to the failed experiment.