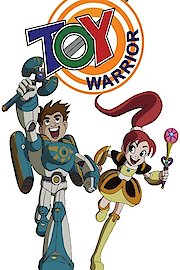 Watch Toy Warrior
G
2005
1 hr 16 min
Toy Warrior is a charming 2005 animated adventure film that is sure to capture the hearts of children and adults alike. The film follows the journey of a courageous toy robot named Joustra, who comes to life and travels to a fantastical world to save his creator from the clutches of an evil sorcerer. The story begins with a young boy named Galen, who is gifted a toy robot named Joustra by his grandfather. Galen is enamored with Joustra and treats him as a friend, often talking to him as if he were alive. One day, Joustra miraculously comes to life and reveals that he has been imbued with the power of a thousand suns. Soon after this revelation, Joustra is whisked away to a magical world where he is hailed as a hero and meets a host of colorful characters, both friend and foe.
One of the standout characters in the film is a mischievous monkey named Nanouk, who becomes Joustra's trusted ally. Nanouk is a hilarious and endearing sidekick who provides comic relief throughout the film. Another memorable character is Sathon, the evil sorcerer who has kidnapped Galen's grandfather and seeks to use Joustra's powers for his own nefarious purposes.
As Joustra navigates this magical world, he discovers that his powers are not enough to defeat Sathon and his minions. He must also rely on his cunning and bravery to outsmart the sorcerer and his army of mechanical beasts. Along the way, Joustra learns valuable lessons about friendship, loyalty, and the importance of standing up for what is right.
The film's animation is bright and colorful, with stunning visuals that perfectly capture the fantastical world in which Joustra finds himself. The characters are beautifully designed and wonderfully animated, making them instantly memorable and easy to root for. The voice acting is also top-notch, with Carlos Alazraqui, Dee Bradley Baker, and Beau Billingslea delivering standout performances that bring the characters to life.
Overall, Toy Warrior is an exciting and heartwarming adventure that will delight audiences of all ages. With its engaging story, lovable characters, and stunning animation, the film is a must-see for anyone who loves a good animated adventure. So gather your family and friends, grab some popcorn, and get ready to embark on a thrilling journey with Joustra and his friends.
Toy Warrior is a 2005 animated movie with a runtime of 1 hour and 16 minutes. It has received moderate reviews from critics and viewers, who have given it an IMDb score of 6.2.