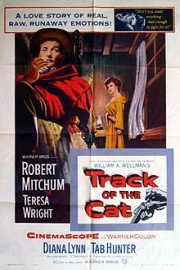 Watch Track of the Cat
"Human Emotion Stripped Raw!"
Approved
1954
1 hr 42 min
Track of the Cat is a 1954 western drama directed by William A. Wellman and starring Robert Mitchum, Teresa Wright, and Diana Lynn. The movie is based on the book of the same name by Walter Van Tilburg Clark. The story takes place in the Sierra Nevada Mountains during the 1950s. The Bridges family, consisting of patriarch Ma Bridges (Beulah Bondi), her four adult children, and their guests, is gathered at their isolated home for a family occasion. The men of the family are seasoned hunters and are planning to hunt deer in the mountainous terrain. The Bridges family is a dysfunctional one, grappling with deep-seated resentments and long-festering conflicts that are never fully resolved. The central character is the Bridges' eldest son Curt (Robert Mitchum), a rugged and solitary man who is a skilled hunter, but also plagued by feelings of anger and bitterness towards his family. His strained relationship with his younger brother Arthur (William Hopper) is particularly fraught, as Arthur is the favored son and has inherited more of the family's wealth and land. As the family prepares to head out into the wilderness, they are warned by a Native American man that a mysterious black panther is on the prowl in the area. The panther represents both danger and mystery, casting a shadow over the already tense family dynamic. The movie unfolds in a series of flashbacks and present-day scenes, intercut with dreamlike sequences and images of nature. The Bridges family is a microcosm of a changing American society, struggling to come to terms with the encroachment of modernity on the Old West. The story explores themes of isolation, sibling rivalry, and the tension between traditional values and societal change. The performances in Track of the Cat are uniformly excellent, with Robert Mitchum delivering a particularly intense and brooding performance as Curt Bridges. Teresa Wright is also excellent as the supportive and loving sister-in-law who tries to hold the family together. Diana Lynn brings a spark of youthful energy to the role of the youngest Bridges daughter, who is something of a rebel and chafes against the constraints of her conservative family. Director William A. Wellman creates a visually stunning film, using a stark black-and-white palette to convey the rugged beauty of the Sierra Nevada landscape. The use of dreamlike imagery and surreal elements adds to the film's eerie atmosphere and creates a sense of foreboding that permeates throughout. While the film was not a commercial success upon its release, Track of the Cat has since become something of a cult classic among fans of the Western genre. It is a thought-provoking and visually striking film that explores timeless themes with a fresh perspective.