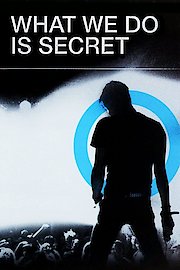 Watch What We Do Is Secret
"American Punk started with a Germ"
R
2007
1 hr 32 min
54
What We Do is Secret is a film that revolves mainly around Darby Crash. Crash was a singer of a punk rock group called Germs in the late l970s. The film follows the life of Crash including the forming of Germs, his heroin experimentation, homosexual relationship, his "five-year plan", and his eventual suicide in 1980. The name What We Do is Secret was the first song on Germs' album. Darby Crash's real name was Jan Paul Beahm. The story begins as he grows up with an alcoholic mother, and no father that he knows. It goes on to cover the Germs first gig in 1977, and beyond.