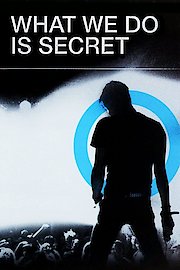 Watch What We Do Is Secret
"American Punk started with a Germ"
R
2007
1 hr 32 min
54
What We Do Is Secret, released in 2007, is a biopic of the influential punk rock band The Germs, and particularly its enigmatic frontman Darby Crash. Shane West plays Darby Crash, the lead singer of The Germs, who has a morbid fascination with death and infamy. The film explores Darby's turbulent life and his obsession with becoming a rock star, culminating in his untimely death at the age of 22.
The film begins in the late 1970s, in the midst of the punk rock explosion in Los Angeles. Darby and his friend Pat Smear (played by Rick Gonzalez) start The Germs, a band that quickly gains a following for their primitive and chaotic live performances. The film portrays their early years as a band, during which they become intertwined with the emerging punk rock scene in LA. They become notorious for their wild and reckless shows, often ending with Darby assaulting audience members and destroying equipment.
Bijou Phillips plays Lorna Doom, the bassist of The Germs who becomes one of Darby's closest confidants. The film explores Darby's relationships with Lorna, Pat, and other key figures in the punk scene, including Don Bolles of The Germs and Joan Jett of The Runaways. We see how Darby struggles to balance his desire for fame and recognition with his self-destructive tendencies and his fascination with death.
The film also delves into Darby's personal life, depicting his tumultuous relationship with his mother and his struggles with addiction. In one particularly poignant scene, Darby's mother reveals that she named him after a character from Gone with the Wind who dies tragically, foreshadowing Darby's own fate.
The film is gritty and uncompromising, reflecting the DIY spirit of the punk rock movement. It offers a vivid portrayal of the LA punk scene of the late 1970s and early 1980s, with its mix of creative energy, nihilism, and violence. The film's soundtrack features classic punk rock tracks from The Germs, The Runaways, and other influential bands of the era.
At its core, What We Do Is Secret is a character study of Darby Crash, an enigmatic figure who embodied the self-destructive spirit of punk rock. Shane West does an excellent job portraying Darby, capturing both his charisma and his darkness. The film offers a nuanced and empathetic portrayal of a complex and troubled artist, while also celebrating the music and the era that shaped him.
Overall, What We Do Is Secret is a must-see for anyone interested in punk rock history and culture. It offers an authentic and compelling look at one of the most influential bands of the era, as well as a portrait of a young artist who burned brightly and went out too soon.
What We Do Is Secret is a 2007 drama with a runtime of 1 hour and 32 minutes. It has received moderate reviews from critics and viewers, who have given it an IMDb score of 6.3 and a MetaScore of 54.