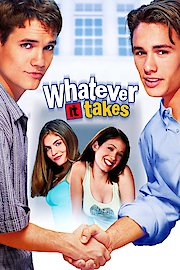 Watch Whatever It Takes
"How low will they go to get the girls of their dreams?"
PG-13
2000
1 hr 34 min
20
Shane West, Marla Sokoloff, and Jodi Lyn O'Keefe star in the 2000 teen romantic comedy Whatever It Takes. Directed by David Raynr, the film tells the story of two high school seniors, Ryan (West) and Chris (Sokoloff), who make a pact to help each other win their respective love interests. Ryan, a popular athlete, is hopelessly in love with Ashley (Jodi Lyn O'Keefe), the beautiful and unattainable head cheerleader. Chris, on the other hand, is a brainy and socially awkward student who has a crush on Maggie Carter (played by Vanessa Lee Chester), a talented artist who is also Ryan's neighbor. Desperate to win over their crushes, Ryan and Chris devise a plan to help each other. Ryan promises to help Chris become more popular and win Maggie's heart. In return, Chris agrees to tutor Ryan in his classes so that he can maintain his grades and stay on the football team. Their plan involves a series of comedic schemes and misadventures that include fake love letters, fake sex tapes, and even a fake breakup. As they execute their plan, Ryan and Chris begin to develop their own friendship and form a bond that goes beyond their mutual interests. As they spend more time together, Ryan and Chris realize that they might not be pursuing the right people after all. Ryan begins to question his feelings for Ashley and starts to notice that his true soulmate might be his childhood friend, Maggie. Similarly, Chris begins to realize that his crush on Maggie might be driven more by physical attraction than emotional connection. Meanwhile, Ashley and Maggie also have their own emotional journeys. Ashley, who seems to have it all, realizes that her life is not as perfect as it seems. Maggie, who is struggling with her family's financial problems, learns to follow her passion and pursues her dream of attending art school. In the end, the characters all find their own happy endings, but not without a few surprises and twists along the way. Whatever It Takes is a quintessential early 2000s romantic comedy that captures the spirit of the genre. Packed with wit, humor, and memorable moments, the film offers a heartwarming and entertaining story that will appeal to audiences of all ages. With a talented cast and a solid script, Whatever It Takes delivers a delightful and enjoyable viewing experience.