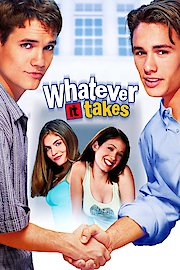 Watch Whatever It Takes
"How low will they go to get the girls of their dreams?"
PG-13
2000
1 hr 34 min
20
Whatever It Takes is a high-school teen comedy that was released in 2000. It was directed by David Raynr, and it was written by Mark Schwahn. The film stars Shane West as Ryan Woodman, and James Franco as Chris Campbell. The supporting cast consists of Jodi Lyn O'Keefe, Marla Sokoloff, Julia Sweeney, Aaron Paul, Colin Hanks, Kip Pardue, and Nick Cannon. The film received a PG-13 rating for suggestive sexual content and inappropriate language. The story begins by introducing high-school student, Ryan Woodman. He is a nerd, and is in love with the hottest girl in school. Her name is Ashley. Rather than doing anything about it, he talks about it with his best friend, Maggie. Maggie is also a nerd, and Ryan has never had any romantic feelings towards her. At this time, Ryan finds out that Chris is into Maggie. Chris is one of the most popular guys in school. Thus, Chris and Ryan make a deal to help each other out to get the girls of their dreams. To fulfill each of their wishes, each guy has to use his expertise to help the other. Chris has to teach Ryan to treat Ashley poorly to get her attention. On the other hand, Ryan has to teach Chris to write emotional letters to get the attention of Maggie. Neither guy is receptive to these new techniques at first, but they become committed to get what they want. When things start to go their way, Ryan starts to develop feelings for Maggie. He realizes that he has no business with a girl like Ashley. The rest of the film sees Ryan on a journey to prove to Maggie that he is the right guy for her. She does not believe him, because she is into Chris. However, Ryan will stop at nothing to prove there is a reason they are best friends.