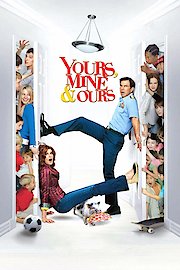 Watch Yours, Mine and Ours
"18 kids, one house, no way."
The remake of a successful 1968 film starring Lucille Ball and Henry Fonda, Yours, Mine and Ours follows the blended family of Frank and Helen, former high school sweethearts who reunite decades later with their own children - a total of 28. In addition to helping their families learn to see eye to eye, Frank, an Admiral in the Coast Guard, and Helen, a handbag designer, must learn to co-parent and raise a family together as well, despite their differences. Bringing the very different families together, however, turns out to be an uphill battle for everyone. The feuding groups of children set out to cut Frank and Helen's reunion short by making this transition unbearable, but in the process, they develop strong bonds and learn to work together. As a team, they must try to undo the damage that their fighting has caused before it drives a wedge between Frank and Helen yet again.