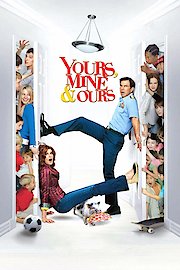 Watch Yours, Mine and Ours
"18 kids, one house, no way."
The 2005 movie Yours, Mine and Ours is a heartwarming family film that explores the complexities of blended families. Directed by Raja Gosnell and starring Dennis Quaid, Rene Russo, and Jerry O'Connell, the movie centers on two single parents who fall in love and must navigate the challenges of merging their large families. Frank Beardsley (Dennis Quaid) is a Coast Guard admiral with eight children, while Helen North (Rene Russo) is a fashion designer with ten children. After running into each other at their high school reunion, Frank and Helen rekindle their romance and decide to get married. However, blending their two families is not as easy as they anticipated, particularly since their children range in age from kindergarten to high school. There is lots of rivalry and competition among the kids, who have to learn how to share their space, time, and belongings. Frank's strict military approach clashes with Helen's laid-back parenting style, creating tension in the family. The movie highlights the challenges of parenting, particularly in blended families. The children struggle to adjust to their new family dynamics while dealing with various personal issues, such as puberty, dating, and academic pressure. Additionally, Frank and Helen have their own baggage to deal with from their previous marriages, which they unconsciously bring into their new family. Despite the difficulties, Frank and Helen's love for each other and their children keeps them together. They try different strategies to bring the family together, such as organizing a talent show and taking them all on a camping trip. Helen also encourages Frank to loosen up and have more fun with the kids, while Frank helps Helen to be more disciplined and organized. Yours, Mine and Ours is a light-hearted film that blends comedy and drama. It features several hilarious scenes, such as when the children dye their hair blue and green or when Frank and Helen accidentally get drunk before a parent-teacher conference. However, it also deals with serious issues, such as grief, identity, and forgiveness. For instance, one of the Beardsley children, William, struggles with the loss of his mother and resents Helen for taking her place. He rebels against his new family and is often rude and distant to them. Meanwhile, the North children face identity crises as they try to find their place in the blended family. For example, Phoebe, the youngest daughter, feels neglected and insecure when she realizes she is no longer the baby of the family. The movie also explores the theme of forgiveness, particularly between Frank and his eldest son, William. Frank blames himself for his wife's death and has a strained relationship with William, who resents him for being absent during his mother's illness. However, through a heart-to-heart conversation and a shared surfing experience, they are able to reconcile and bond. Overall, Yours, Mine and Ours is a wholesome and entertaining family movie that celebrates the joys and challenges of parenting. It showcases the importance of love, communication, and compromise in building a healthy and happy family, regardless of its size and shape. With its talented cast, charming humor, and relatable storylines, the movie is sure to tug at the heartstrings of audiences of all ages.