Aesop's Theater
Aesop's Theater is an animated series starring a wolf named Aesop and a troupe of animals as theater performers. The theater troupe includes a fox, a rabbit, and a group of pigs. Aesop calls the pigs The Shorties hoping it will motivate them to work together since they always seem to be getting into trouble.
The animals write, direct, and star in plays based on Aesop's fables. The animals also build sets and costumes for their plays.
1 Season,

8

Episodes

January 19, 2018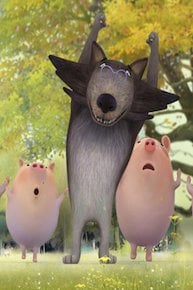 Aesop's Theater Full Episode Guide
Episode

8

-

A Football Match / Libbit Takes His M...

The pig team and the Aesop team are having a soccer match. / Libbit's favorite sunglasses break. / The pigs have eaten all of the grapes.

Episode

7

-

What a Funny Picnic! / Sporty Shortie...

The troupe is going on an overnight trip. / Aesop argues with the leader of the Black Goat Company. / Aesop considers having the pigs expelled.

Episode

6

-

Work Hard, Play Hard / An Acting Comp...

Episode

5

-

Naughty Shorties! / Goddard Learns a ...

Aesop is proud of the tree he created as a stage prop. / Goddard is being lazy. / Aesop is trying to decide who will play the deer in his new play.

Episode

4

-

Aesop and the Monster / I Like Sweeti...

Aesop writes a play about a frog who brags he can grow as big as a bull. / The pigs steal some sweets. / Aesop distributes books to the troupe.

Episode

3

-

Libbit Gets Cross / Aesop Meets a Fan...

Tonight's play is about a tortoise and a hare who race each other. / Aesop has trouble thinking of ideas. / Aesop has written a play about two goats.

Episode

2

-

Shorties to the Rescue! / Libbit Make...

Aesop's latest play is a huge success. / A play is ready to start, but there is no audience. / Aesop writes a play about an angry frog.

Episode

1

-

A Fresh Start / A Greedy Shortie / Pr...

Aesop arrives in the forest with his theater troupe. / Aesop gives some cakes to the pigs, hoping it will motivate them. / Pressy catches a bad cold.