Bam's Bad Ass Game Show
Bam's Bad Ass Game Show is a challenge that gets multiple players to compete for $10,000. The unique spin for this show is that it is designed to put adversaries in very aggressive challenges that can sometimes be painful and dangerous. This is a show created by TBS that takes the competitors on a lot of wacky stunts. They will face things like allowing themselves to get shot out of cannons. It is a show that is designed from one of the creative minds behind the MTV Jackass show antics. This is basically a game show extending that concept.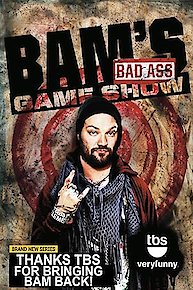 Bam's Bad Ass Game Show Full Episode Guide
Episode

6

-

Ostrich Egg Scramble

This week, contestants are challenged by being human slingshots, large ostrich eggs and a port-a-potty run.

Episode

5

-

Wheel of Misfortune

This week, contestants are challenged by a spinning balance beam, a wheel of misfortune and a flying recliner.

Episode

4

-

Barrel Roll Bowling

Four women strut their stuff in the Bam Barrel Rodeo, rain in the cash with the Money Machine and get inside a barrel for a human bowling game.

Episode

3

-

Treadmill Dump

Challenges include an obstacle course, an elevated treadmill and an inverted zip line.

Episode

2

-

It's Not a Bidet, It's a Bi-Don't

Challenges include a toilet seat blast and a barrage of firecrackers.

Episode

1

-

Hogtied Splashdown

Challenges include going off a ramp wearing ski's made with apple crates, getting quizzed while hogtied over a pool of garbage, and being launched out of a cannon.