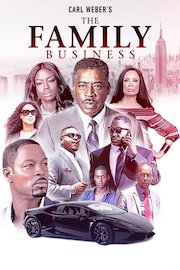 Watch Carl Weber's The Family Business
TV-MA
2018
4 Seasons
Carl Weber's The Family Business is a thrilling drama television series that aired on BET Channel in 2018. The series is based on the best-selling novel of the same name by acclaimed author Carl Weber. The show follows the life of the Duncan family, a prominent African American family that owns a successful car dealership in New York City. The family's business is highly lucrative, but it is also a front for their involvement in shady criminal activities.
Valarie Pettiford stars as Charlotte Duncan, the matriarch of the family who runs the dealership with her husband, LC Duncan, played by Ernie Hudson. Charlotte is a feisty woman who is not afraid to speak her mind and do what it takes to protect her family. Darrin Dewitt Henson plays Orlando Duncan, the eldest son of the family who is poised to take over the family business when his father retires. Orlando is a charming womanizer who is also a skilled businessman and a natural leader.
Sean Ringgold stars as Junior Duncan, the second eldest son who is not as focused or driven as his older brother. Junior is known for his quick wit and sense of humor, but he often finds himself in trouble due to his reckless behavior. Javicia Leslie stars as Paris Duncan, the only daughter of the family who is a talented fashion designer. Paris is headstrong and fiercely independent, which often puts her at odds with her parents and brothers. Lastly, Christian Keyes stars as Vegas Duncan, the youngest son of the family who is currently in prison. Vegas is a gifted engineer who is serving time for a crime he did not commit.
The show follows the family as they navigate the complex world of organized crime while juggling their personal lives and relationships. The Duncan family's bonds are tested when a new rival emerges, threatening to take away their business and destroy their family's legacy. In the face of adversity, the Duncans must unite and use their individual strengths to stay ahead of their enemies and protect their interests.
Overall, Carl Weber's The Family Business is a gripping drama series that explores the dark underbelly of the criminal world through the eyes of a powerful family. The show is full of twists and turns, engaging characters, and high-stakes action, making it a must-watch for fans of crime dramas.
In conclusion, Carl Weber's The Family Business is a thrilling show that is sure to keep viewers on the edge of their seats until the very end. With its talented cast, intricate storyline, and intense action scenes, it is one of the best crime dramas to come out in recent years.
Carl Weber's The Family Business is a series that is currently running and has 4 seasons (43 episodes). The series first aired on November 13, 2018.