Click Your Heart
A charming student catches the eye of an athlete, an intellectual, a brooding loner and a passionate dancer in this choose-your-own-adventure romance.
1 Season,

7

Episodes

January 1, 2016

/

10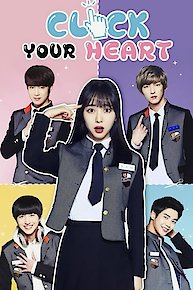 Click Your Heart Full Episode Guide
Min Ah still blames herself for the accident, but with Chani's astonishing revelation, she may gain the power to live without fear of her "curse."

After Min Ah and Ju Ho discuss their relationship and their past communication issues, she realizes he still has feelings for her.

Ro Woon asks Min Ah to choose between him and Da Won. After she shuns them both, Da Won confesses to her a long-held secret.

After Ro Woon asks to date her, Min Ah frets when Da Won seems to ignore her. Later, Ro Woon goes all out to prove that Min Ah isn't bad luck for him.

Chani goes too far trying to charm Min Ah. Meanwhile, Min Ah fears her curse caused one of the Neoz boys to hurt his foot, and Ju Ho reveals a secret.

Min Ah believes her curse is behind Ro Woon's accident on the field. Later, Da Won gets on Min Ah's bad side by calling himself her "older brother."

Rumors fly that Min Ah is cursed, so most of her new classmates avoid her. But the guys in the school's boy band Neoz are all falling in love.