Watch Dancing with the Stars
Over the last decade, there have been many reality programs on television that have come and gone. Many of these shows feature some sort of competition between contestants with eliminations presented every new episode. This formula has worked well for some programs, but it has also led to the demise of others. One such program that is just as popular as ever is ABC's Dancing With the Stars. The show is essentially a ballroom dancing competition that features celebrity contestants who are paired with professional dancers. Though the concept would not seem, at first, to be very compelling, millions of people tune in each season to see which celebrity will take the mirror ball trophy home.
The show is actually based upon a British program called Strictly Come Dancing, though it has quickly developed its own unique sensibility, separating it from its forebear. Generally speaking, each episode of the program is a light-hearted affair that features dances from all of the participating contestants and comments from judges who hail from the world of professional dancing. Additionally, each dancing couple is interviewed by the hosts of the show following their performance. Then, audience members are urged to vote for their favorite couple. The following evening, a second weekly show airs in which the couple who received the fewest votes is ceremoniously ejected from the show.
Dancing With the Stars has been airing for 14 seasons, and there have been some notable champions during this time. Football stars seem to do particularly well on the show, as evidenced by the performances and eventual wins of NFL pros like Donald Driver, Emmitt Smith and Hines Ward. However, some of the celebrity winners have come from fields outside the realm of professional athletics. These winners include J.R Martinez, Jennifer Grey and Donny Osmond. Brooke Burke, who is now a co host of the show, was also a winner in season seven.
Dancing With the Stars is a true phenomenon of American television, and it is likely that its formula will remain unchanged for the next few seasons, considering that it has been so successful. People love the relatively drama-free nature of the show, and they also enjoy seeing some familiar faces on the dance floor participating in some very unfamiliar activities. Season 15 is just around the corner, and it is likely that the new season will be every bit as enjoyable as the ones preceding it.
Monday 8:00 PM et/pt on ABC

24 Seasons,

416

Episodes

June 1, 2005

/

10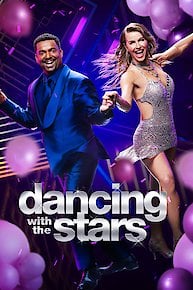 Dancing with the Stars Full Episode Guide
Season
24
252 clips available
Episode

11

-

Week 10: Finals Pt. 2

The remaining couples advance to the final stage, where they must fuse two contrasting dance styles; Hailee Steinfeld performs; OneRepublic performs.

An elimination happens after week 9 of performances.

An elimination happens after week 8 of performances.

Mandy Moore will kick off the night with an exciting opening number, then each couple will attempt to capture the spirit of a specific movie genre. As an added bonus, Dove Cameron, Cameron Boyce, Sofia Carson and Booboo Stewart perform a "Descendants"-themed medley.

The couples perform to boy band and girl group songs. Which couple will be eliminated?

An elimination occurs after week five of performances, which includes Disney-themed dances. Also: performances by Alfonso Ribeiro; Auli'i Cravalho; Donny Osmond; and ZZ Ward.

Each couple will dance to a song that the celebrity picks that relates to a memorable time or truly wonderful experience in their life while performing a Viennese waltz, cha cha, contemporary, foxtrot, rumba or waltz.

An elimination following week three of performances.

Episode

1

-

Week 1: Premiere

New celebrities hit the dance floor, including Simone Biles, Rashad Jennings, Charo, and Bonner Bolton.
Season
23
173 clips available
Episode

15

-

Week 11: Finals Pt. 2

All 13 couples from the season perform an opening number before the three finalists compete to be crowned "Dancing With the Stars" champion; musical performers include Vanilla Ice, Rick Perry, Andy Grammer and more.

Episode

14

-

Week 11: Finals Pt. 1

The remaining dancers compete during the 11th and last week of performances.

An elimination happens following the tenth week of performances, which includes two dances from each couple, as well aa a trio dance.

The stars perform to songs from Broadway musicals and are paired up for a Team-Up Challenge. America has voted and viewers discover who will be eliminated.

An elimination; also featuring Halloween-themed dances.

An elimination happens after the seventh week of performances, which showcases each celebrity dancing to music from a different era. Also: Team dances are executed.

This week things heat up as the stars perform Latin dances. Also, Pitbull joins as a guest judge and sings "Greenlight."

The stars commemorate their most memorable year with their dances.

Episode

7

-

Week 4 Results

The results are in! Who will be eliminated from the competition?

This week the couples perform a dance inspired by a Cirque du Soleil show.

Episode

5

-

Week 3 Results

The second elimination takes place, based on the viewers' votes and the judges' scores from last night's show.

This week the couples face off against each other in dance offs.

Episode

3

-

Week 2 Results

The results are in! Who will be eliminated from the competition?

The celebrities dance to some of television's greatest theme songs.

The 23rd-season premier opens with 13 celebrities, including Ryan Lochte; Rick Perry; Amber Rose; Laurie Hernandez; Kenny "Babyface" Edmonds; Marilu Henner; and Vanilla Ice.
Season
22
114 clips available
Season
21
13 clips available
Season
20
14 clips available
Season
19
24 clips available
Season
18
5 clips available
If You Like Dancing with the Stars, Then Try...
Dancing with the Stars News
Aly Raisman Breaks Up with NFLer Boyfriend
The former gymnast and former tight end have gone their separate ways.
Sean Spicer Is Too Busy for 'Dancing with the Stars'
But maybe Anthony Scaramucci will be able to find some free time.
Sean Spicer to Join 'Dancing with the Stars'?
The show apparently wants the former Press Secretary as a contestant.
Julianne Hough Has a Topless Instagram Birthday
The 'DWTS' star took off half her bikini to celebrate and shared the fun with her followers.
Julianne Hough Marries NHL Star
The 'DWTS' favorite got hitched in Idaho over the weekend.
Maksim Chmerkovskiy and Peta Murgatroyd Are Married!
The 'DWTS' favorites tied the knot this weekend.
Rumer Willis Has Been Sober for Six Months
The actress is very proud of her achievement.
Tara Lipinski Has a Bikini Honeymoon
She's wearing very little while she's in the Maldives, and she's sharing it all with her followers.
Tara Lipinski Weds Over the Weekend
The former Olympic skater married Fox Sports producer Todd Kapostasy.
Kendra Wilkinson Is Fine with Her Daughter Posing for Playboy
Kendra herself is a former girlfriend of Playboy founder Hugh Hefner and has posed nude for the magazine three times.
Amber Rose is Celibate?
The provocative reality star opens up about her unintentionally sex-free life.
Amber Rose's NSFW 'Feminist' Post Deleted by Instagram
She pushed beyond IG's nudity limits, but she doesn't care because her fans got a peek elsewhere.
View More News